10 Best Document Management Software for Small Businesses in 2024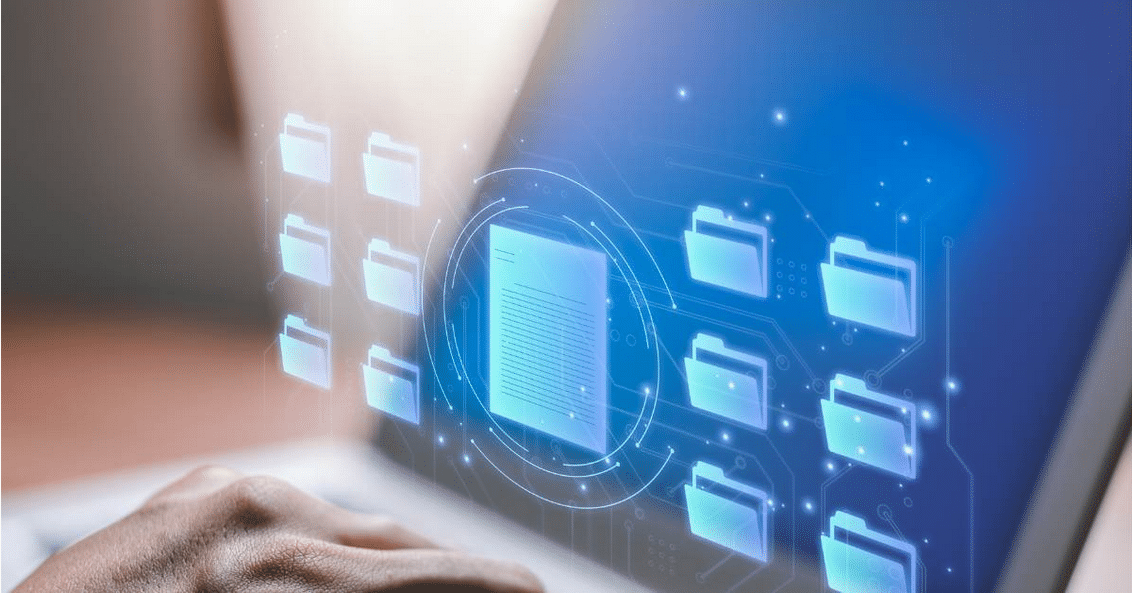 Tired of manually sorting through documents?
Manually organizing a large pile of documents, let alone trying to fetch a specific document from a stack can be a time-consuming and tiresome chore.
However, with a document management system, you can expedite and streamline all document management processes in your business, ensuring you spend less time on mundane tasks and more on productive activities.

In fact, according to WorkMarket 54% of employees believe they could save up to 240 hours annually through document handling automation.
In business, time is money, and when given a chance to save both, I take it!
Document management systems are transforming businesses and setting them on a path of success by ensuring efficiency, speed, and accuracy.
In this article, we'll explore the best document management software for small businesses in 2024, to set your digital transformation journey on the right footing.
Let's get started.
How to Choose a Document Management Software
How do you choose a document management software?
Before we get our hands dirty, exploring some of the top document management systems in detail, let's look at a few tips for choosing the best document management software for your small business.
i) Consider Integration Capabilities
For a small business, it is good to consider a software that fits in with your existing IT infrastructure and be able to accommodate current and future software.
Changing between applications can waste a lot of time, so having all of them under one platform would be great for optimizing your productivity and ROI.
ii) Prioritize Data Security
As security is very crucial in any business, data security should be among your top priorities when picking a document management software.
The ideal DMS should be able to implement measures to protect your data so that you can share and store documents without fear of unauthorized access, or a data breach potentially bringing your business to its knees.
iii) Total Cost of Ownership
It is not always the best idea to use a pricing approach when picking a DMS.
However, it is important to factor in the cost of owning an automation solution. If you are tight on budget, you can easily find affordable software with enterprise-level features.
Similarly, you can save money by having the software provider host the software for you rather than doing it yourself.
Let's now dive right in and compare the top document management solutions.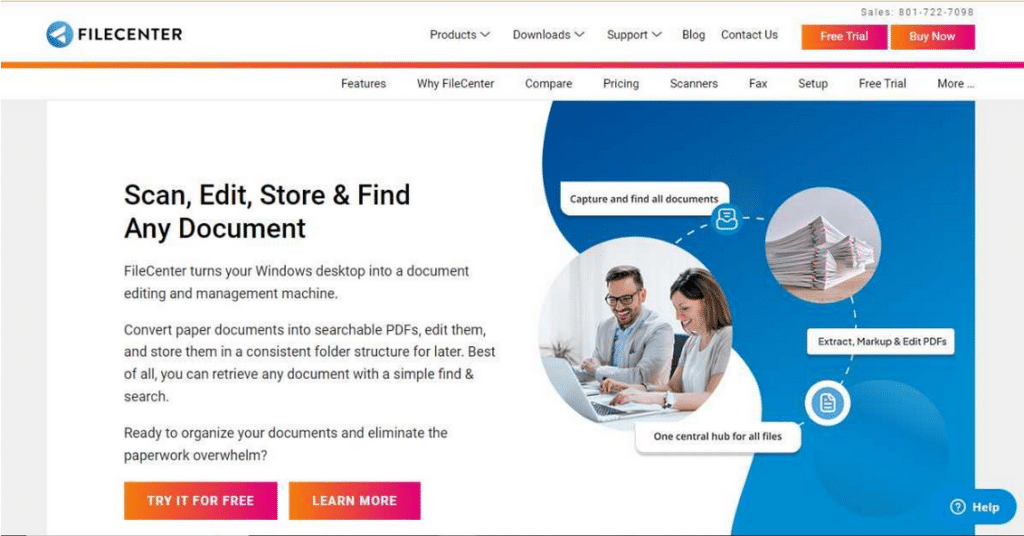 FileCenter is the best software for document organization.
So why FileCenter?
Imagine if you could turn all your business documents into PDFs, securely store them in a streamlined folder structure, edit, and access them any time you want by a simple search action.
How easy would your work be?
FileCenter will automate all your repetitive and mundane tasks such as routing documents, naming, and converting in bulk to save you time.
Additionally, it provides a communication service to enhance collaborations between your employees and clients. In fact, the FileCenter client portal allows you to share files in a very secure yet natural way.
Small businesses in 2024 can use FileCenter to organize their documents and limit the time spent on management so they can focus on money-making activities.
Best Features:
FileCenter's PDF editor easily allows you to create PDFs from any file, edit, and annotate them.
FileCenter is one of the most intuitive and easy to use software, with no complex database allowing you to efficiently organize your documents.
FileCenter features a one-click scanning and OCR that allows you to quickly scan any document and easily find them within your storage repository.
Pricing:
Starting plan:
$5/month on per user basis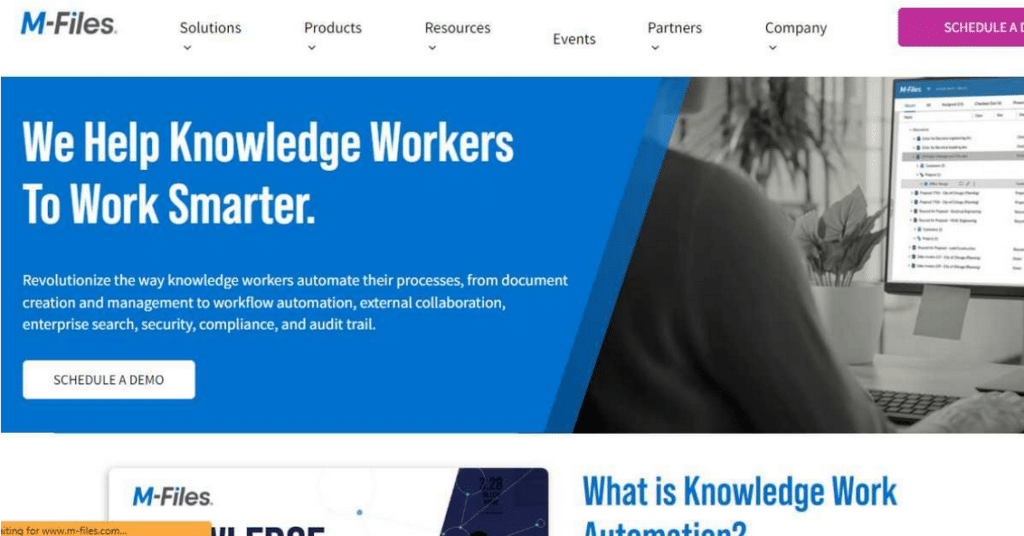 This is the best software for knowledge work automation and workflow.
I have ranked M-Files as one of the best document management software for small businesses because of its intuitive nature and easy-to-use interface.
M-Files shakes things up a bit with a proprietary AI technology, M-Files Aino that enhances the platform's features and performance. The technology helps you manage documents in a way that they can easily be found at any time.
About automation, M-Files enables you to save time by automating workflows across creation and approval. All this is made possible while maintaining your documents' security, thanks to the ability to automate access rules and to produce detailed audit trails.
M-Files is ideal for businesses in 2024 that need software that can provide intelligent workflow automation to simplify document management.
Best Features:
M-Files proprietary AI technology, M-Files Aino, helps you organize and understand your documents so that you can get the most out of them.
M-Files enables you to expedite payments through process automations like invoice processing to save time and money.
M-Files provides a secure way to share documents and collaborate to reduce business risks.
Pricing:
M-Files provides a customized quote upon request depending on the plan you pick and any add-ons you select.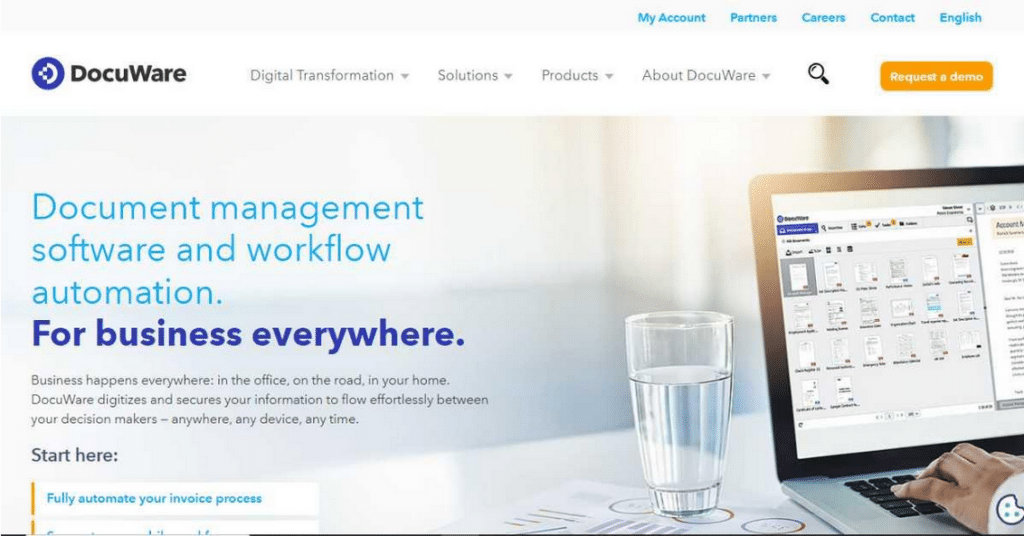 DocuWare is another great document automation system.
Small businesses with different workflow automation require a system that can provide flexible workflow automation. And DocuWare gives just that and nothing less.
Since the software is cloud-based, it enables you and your employees to securely store and access documents from anywhere and on any device ensuring an unparalleled flow of information between decision-makers.
DocuWare has got you covered from document generation through payment by eliminating all manual paperwork. Thanks to its intelligent indexing, you can generate and process incoming invoices. Additionally, you can set preconfigured routing automation to expedite payments.
Other features include smart productivity tools, secure storage, and app integration.
DocuWare is perfect for small businesses that want to digitize their documents and eliminate tedious repetitive tasks.
Best Features:
DocuWare allows you to access all your documents from anywhere and at any time using the DocuWare mobile workforce solution.
DocuWare eliminates manual invoice processes that cause delays by providing an invoice processing automation solution.
DocuWare prioritizes security with secure access rights and data encryption, to give your employees and client peace of mind.
Pricing:
Just like M-Files, DocuWare does not display their pricing. However, you can get in touch with them for a customized quote.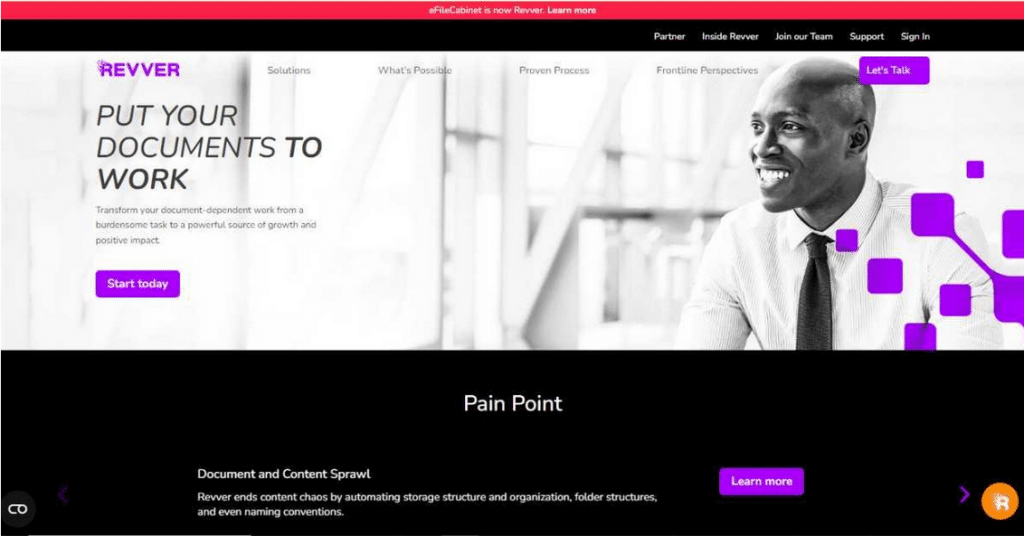 Do you want to enhance collaborations between your employees?
Revvers is the best document management system for small businesses in 2024 with powerful collaboration tools that power up communication, file sharing, approval, and signing of documents.
This software can be instrumental in limiting the time you spend on repetitive tasks that take away from productive work that is core to your business.
Revver helps businesses organize their entire document system with the help of predefined folders and subfolders, templates, and automatically applied access controls.
This ensures that your documents are easily accessible through multiple search options.
In regards to security, Revver delivers only the best to ensure you can store and share sensitive information risk-free. Additionally, all documents created automatically inherit the appropriate access controls.
Small businesses can use Revver to reduce the time spent on document management by automating routing, approval, and signing processes.
Best Features:
Revver's automation capabilities allows you to automate mundane repetitive tasks such as document generation in order to save time.
Revver's reporting and visualizing features provides insightful data and simplifies it to help you make smarter and faster decisions.
Revver delivers great security for documents ensuring that they all inherit the appropriate access control policies.
Pricing:
Pricing is customized to your needs starting at $2000 for an account that supports 2 users.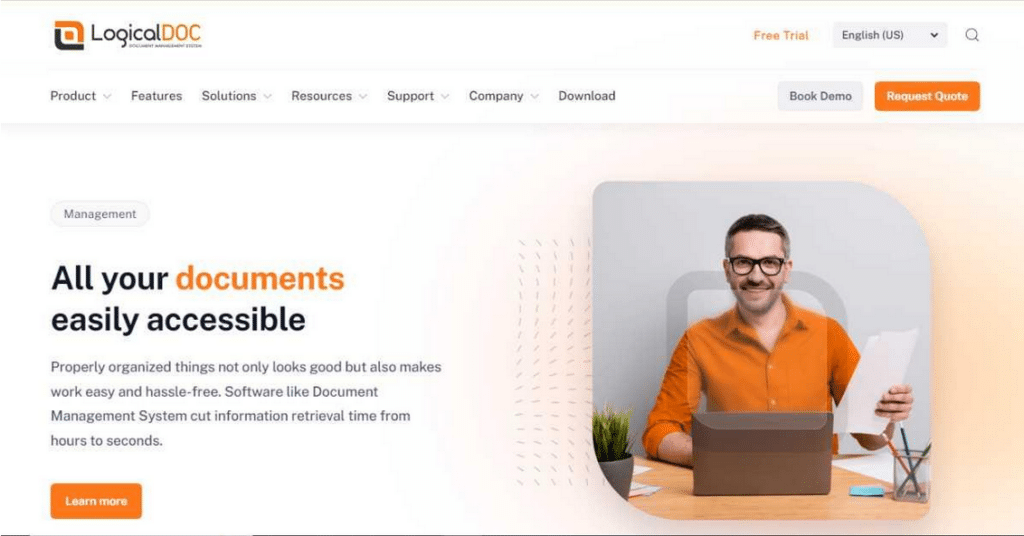 LogicalDoc is easy to use and is compatible with multiple operating systems.
With a small business, you are likely looking for a way to manage your documents while still saving money.
How does no training costs sound?
LogicalDoc boasts an intuitive interface that is easy to use and requires no expertise. All you employees need to do is drag and drop.
Forget manually doing tasks such as document uploads as LogicalDoc automatically does them for you and in bulk after which the documents are stored in a secure, central repository.
In addition to that, you can access your documents from anywhere since the software is compatible with most software and hardware.
Go paperless with LogicalDocs by efficiently organizing your documents to save money on storage space and improve security.
Best Features:
LogicalDocs is a cloud-based software allowing you to access your documents and work from anywhere at any time.
LogicalDoc's drag and drop feature makes the software easy to use without technical expertise.
LogicalDocs has a document searching feature that enables you to quickly find documents to save time.
Pricing:
You can get a customized quote from LogicalDocs depending on the features you want with the business plan being the most affordable one.
Square 9 is a suite of management products that help streamline business processes.
Basically, the software automates most aspects of your operations by simplifying how you extract information from documents (PDF and scans), storing documents in a centralized respiratory system in a way that they can easily be found using document capture automation.
It is also worth mentioning that Square 9 is easily integrated with several document capture automation software like Google Drive and OneDrive.
Data is crucial to the success of any business, which is why Square 9's AI technology simplifies how you extract data from documents to increase efficiency, speed, and accuracy.
Moreover, Square 9 can significantly save time by eliminating manual processes like document routing and approvals.
If you are a small business looking to migrate from a paper-based document system to an intuitive and efficient system, consider Square 9.
Best Features:
Square 9 makes it easy to capture and store documents in an easily accessible way, to save time finding them.
Square 9's AI technology extracts data from documents making it easy to perform tasks such as tracking inventory.
Square 9 can be integrated with several software such as OneDrive and Google Drive to avoid switching between tabs.
Pricing:
Entry Plan:
$45/month per user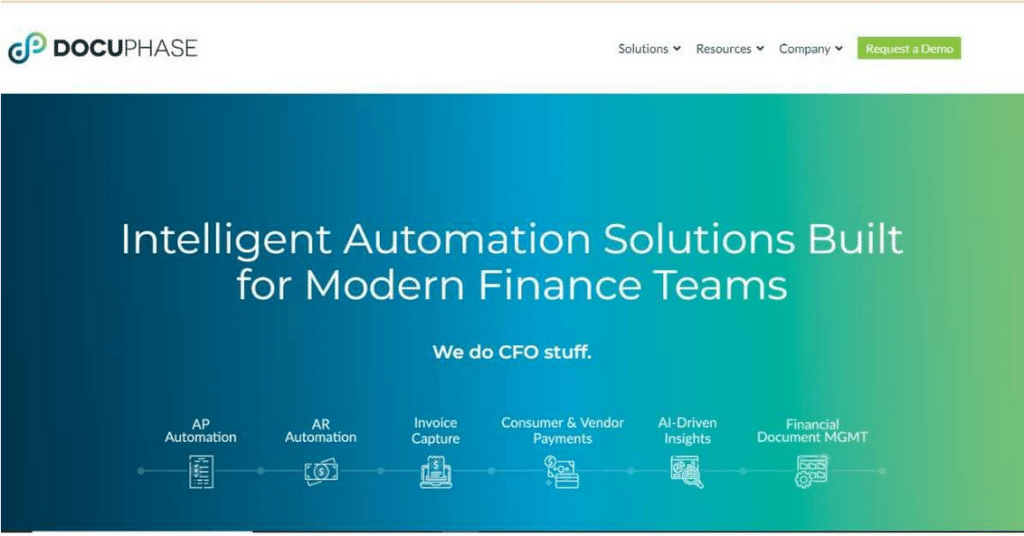 Are you looking for a DMS for your finance business?
Look no further because DocuPhase is the best document management software for small businesses in finance.
Forget about manual AR and AP processes and embrace the power of DocuPhase automation that simplifies these processes to save time, and money, and increase efficiency.
You can also automate repetitive tasks such as the onboarding process and expense approval through workflow automation so you can focus on more important issues. Keep in mind that this can be done without the need for IT.
In addition to that, DocuPhase provides you peace of mind by eliminating the need to switch between apps essential to your business. Simply integrate your DocuPhase software with multiple ERP to gain Real-time visibility and consolidate systems.
Docuphase is ideal for small businesses that want to streamline the steps involved in storage and organization eliminating time-consuming searches for documents.
Best Features:
DocuPhase's workflow automation enables you to automate repetitive processes that can be time consuming like expense approvals.
DocuPhase can integrate well with your ERP of choice to allow you to sync all your data so you can make data-powered decisions.
Its OCR technology helps you improve data efficiency by effectively recognizing text within digital images. The more you use it, the more it learns.
Pricing:
DocuPhase provides a customized quote according to your budget and requirements upon request.
This software integrates essential document management into a single platform.
In terms of features, just like FileCenter, OpenKM has a basket full of them from task automation and integration to record management and workflows.
With OpenKM you don't have to deal with backbreaking record management processes. The software allows you to efficiently control the entire process from creation through to sharing and deposition of records.
For better document management, OpenKM touts OpenKM File Plan which is a set of rules by which documents are organized, retained, and disposed of. The file plan indicates where documents should go, for how long they should be retained, and the person responsible for managing them.
This just creates an organized system that makes things move a lot faster.
OpenKM's workflow feature is top-tier, allowing you to reuse business logic to make business processes.
This software has every essential tool a small business would need to efficiently manage documents and great automation capabilities.
Best Features:
OpenKm provides several methods of integration to allow you to have all your favorite applications in one place for easy access.
Its workflow engine is great for simplifying business processes like creating workflows for assigning tasks to groups or users.
OpenKm's e-Signature allows you to sign documents electronically from anywhere to save time taken sending documents back and forth.
Pricing:
Get in touch with OpenKM to get a quote as pricing for the Cloud and Professional versions aren't publicly available.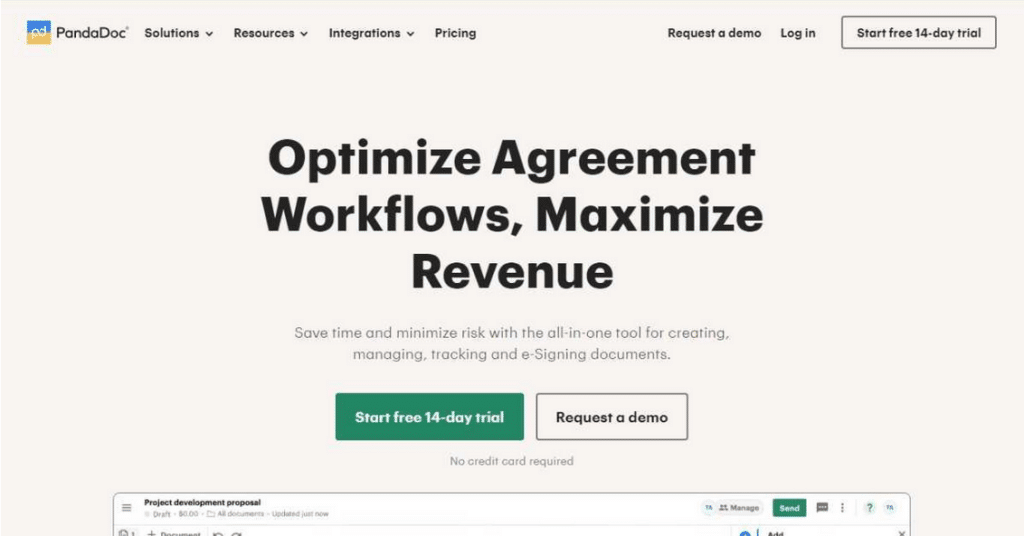 PandaDoc is an all-in-one document automation platform.
PandaDoc ranks as one of the best document management software for small businesses because it brings document management, creation, and e-signing all in one place to help businesses run more smoothly.
This software not only provides document management solutions but also proposal and contract management solutions.
Even for new hires with no experience, PandaDoc is extremely easy to use and provides an easy-to-use interface featuring the drag-and-drop feature and over 500 free templates.
However, you can customize your templates according to your unique needs.
Your documents will always be accurate thanks to PandaDoc's variables and conditional logic features that eliminate errors. Additionally, you can always be sure that your employees are working on the current version of a document, enabled by real-time access version tracking and document access.
Small businesses can utilize this software to streamline and connect every part of their business through workflows and CRM integration.
Best Features:
PandaDoc has over 700 free templates and a drag and drop feature that allows your employees to easily edit documents.
PandaDoc's integration abilities allow you to have all your applications in one place to streamline your whole document workflow.
E-signatures allow you to sign off on all documents from a single platform ensuring prompt approvals.
Pricing:
Get in touch with PandaDoc for a quote customized for your requirements.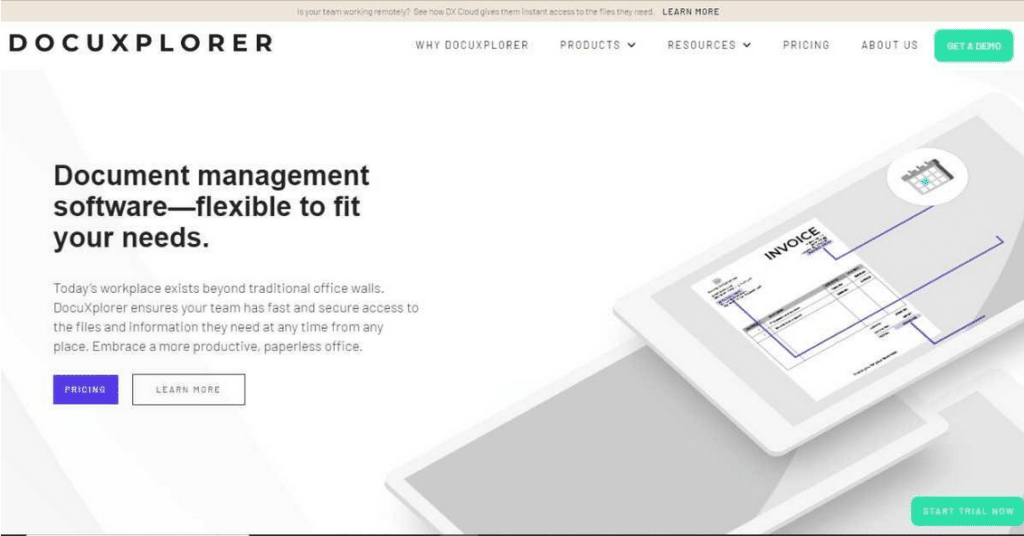 DocuXplore ensures fast and reliable access to documents from anywhere.
If your old file cabinet system works, why not make it better with DocuXplorer's organizational structure that allows you to optimize your business processes by customizing your document organization in a way that works for you?
When this feature is paired with the print driver and smart capture features, you can easily import documents in bulk into specific cabinets and folders.
Additionally, the software's Optical Character Recognition can convert image text to electronic text within seconds while ensuring that they remain searchable and retrievable.
It is also worth mentioning that Docuxplorer gives you full control of your document management by enabling you to share documents, track document version history, and collaborate.
This is the best document management software for small businesses as it ensures top-notch document security through encryptions and audit trails.
Best Features:
Its Print Driver allows you to quickly and efficiently convert documents into searchable PDF, increasing accessibility.
Docuxplorer enables digital signature allowing your employees to approve, send, and track documents quickly.
Docuxplorer delivers top-notch security for your documents by providing audit trails that help you track your document lifecycle.
Pricing:
Request for an instant quote depending on the number of users you need to access the software simultaneously.
Conclusion
A poorly organized document management system poses security risks, wastes time, is expensive and hinders unparalleled workflow.
In fact, according to Pericent, Fortune 500 companies as a whole record a loss of about $USD 12 billion each year due to inefficiencies caused by the lack of a structured document management system.
If you are tired of dealing with stacks of paperwork and ineffective collaborations, you need to invest in one of the best document management software for small businesses.
While all the listed document management software are great for small businesses in 2024, FileCenter is a top-rated software that has all essential features packed up in a single software and offered at a significantly affordable price for small businesses.
Start a free trial of FileCenter and explore all its powerful features and find out how they can supercharge your business and reduce turnaround time.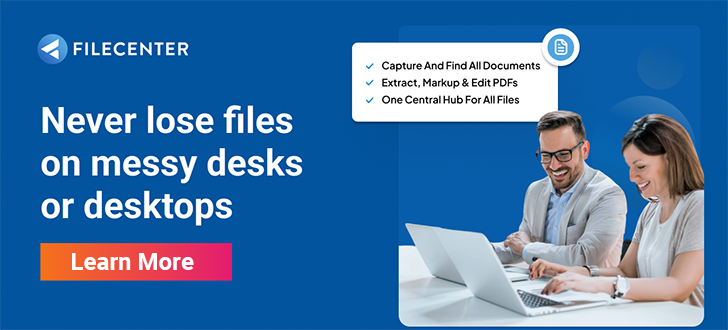 FileCenter can help you eliminate repetitive work so that you can focus on building your business.