How to Manage All Your Financial Documents in One Place
How do you manage all of your company's financial documents? The sheer number of financial documents generated daily can overwhelm any small business owner. You need a better way to manage all of your financial documents in one place – not scattered amongst hundreds of filing cabinets and banker's boxes located throughout your offices.
The key to more efficient storage and management of your financial documents is to employ a digital document management system. Such a system makes financial document management easy and secure. 
Key Takeaways:

Physically managing paper financial documents is a major challenge. A better approach is to use a digital financial document management system (DMS).
A DMS centralizes all important documents, eliminates lost and missing documents, reduces paperwork, and saves money.
A DMS also provides secure storage and enables file sharing and collaboration.
The Challenge: Keeping Track of Your Financial Documents
Companies today generate tremendous amounts of data. IDC estimates that the world created 64.2 zettabytes of new data in 2020, with that number expected to grow 23% a year from 2020 to 2025. That's 1.7MB of new data created every second – much of it financially related.
Your business creates its share of financial documents and you're faced with the challenge of storing and keeping track of them all. At some point, trying to manually manage all those pieces of paper becomes overwhelming, if not physically impossible. There has to be a better way to manage your financial documents.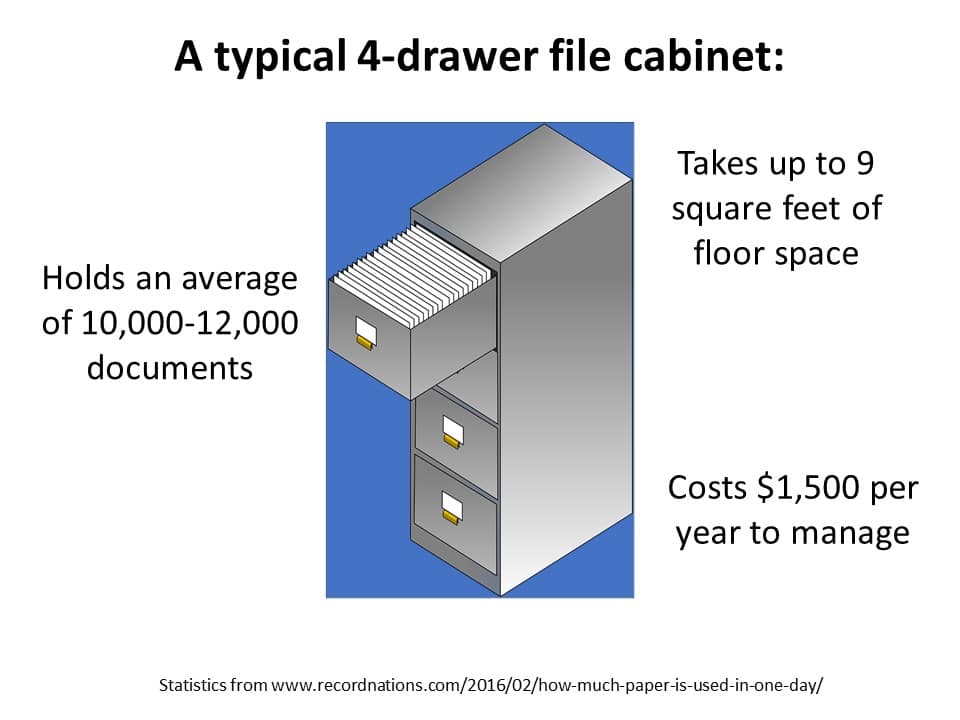 Why Financial Document Management is Important
Maintaining detailed financial records is essential. You have to keep ready copies of key documents like bank statements, P/L statements, and tax returns for both operational and regulatory purposes. You need these documents to prepare your monthly and yearly payroll and business taxes, apply for business loans, open payment processing accounts, and monitor the financial condition of your business. If you can't locate a particular financial document when you need it, all sorts of issues can ensue.
What Financial Documents Do You Need to Retain?
Here's a partial list of financial documents your business needs to keep:
Daily transactions
Customer invoices
Purchase orders
Employee timesheets
Bank statements and reconciliations
Month-end and year-end financial transactions
Balance sheets
Profit and loss statements
Tax returns and supporting documents
The Solution: Implement a Digital Financial Document Management System
Managing all these documents physically is a challenge – and the solution to this challenge is to store your financial documents digitally in a document management system (DMS). A document management system, such as FileCenter, moves all your financial documents into a unified digital space. Existing paper documents are batch scanned into electronic format and all new documents are created natively as digital files. This enables you to store all your financial documents in one central location that is accessible by all your employees, both in the office and remotely.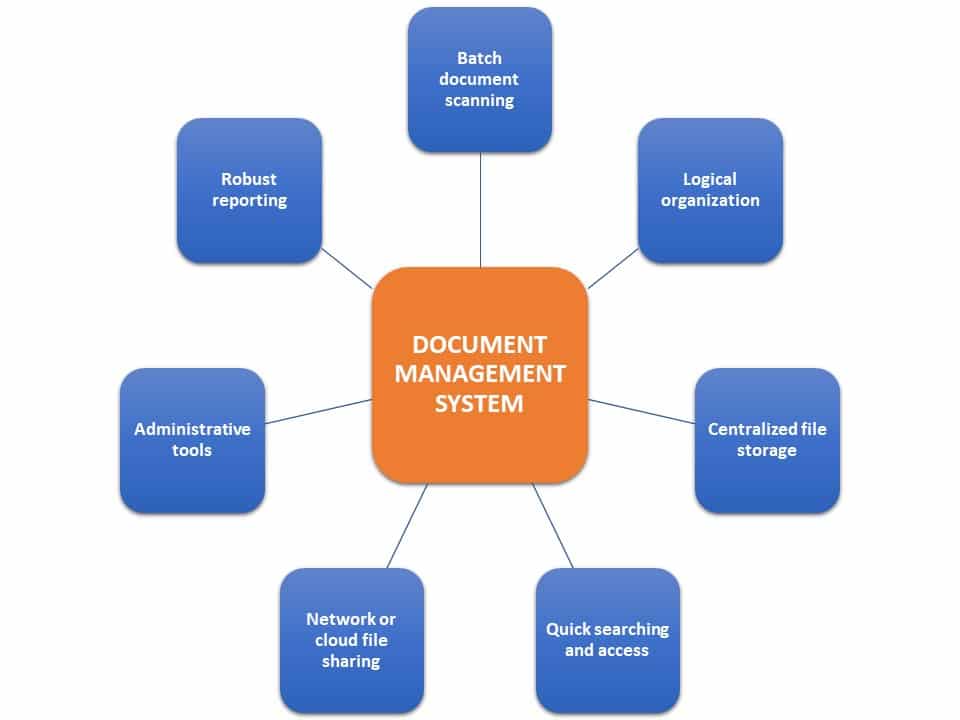 A digital financial management system provides easy access to all your financial documents. You can search for specific documents or general content across multiple documents. All documents are organized into easy-to-understand folders, and you gain powerful tools to control access to sensitive documents. Instead of bothering with paper files, you can do everything digitally on your computer.
Benefits of a Financial Document Management System
Storing all of your financial documents digitally and in a single location offers many benefits for small businesses. Here are eight of the most compelling reasons to make the move.
Centralizes All Important Documents
If you're like most businesses, your financial documents are all over the place – literally. Some are in one office, some in another. Some are paper, some are digital, and located on different computers.
By storing all your financial documents in one central location, you gain more control over all of them. It also makes it easier to find those documents you need because they're all in one place. It helps you stay organized.
Eliminates Lost and Misfiled Documents
Using a consistent file structure, you eliminate the possibility of lost and misfiled documents. You know where everything is and can easily find any given document just by searching for it.
Provides More Secure Storage
Digital storage is more secure than physical storage. Thieves can break into your office and steal important paper documents – but they can't as easily breach your digital storage.
Digital storage is secure against fraud, physical theft, and cyberattacks. You can also better control access to digital files, which keeps unauthorized users from viewing sensitive documents.
Enhances File Sharing and Collaboration
Securely sharing cloud-based files makes it easier for workers to collaborate. This lets your employees work from anywhere, even their own homes, and still have access to the files they need.
(The following video explains what cloud storage is and how it works.)
Eases Tax Preparation
When it comes time to prepare your business taxes, having all your financial documents – including supporting paperwork – in a central location makes the process much easier. It also eases the task of filing monthly payroll taxes.
Helps Track Financial Performance
Because all your financial information is now accessible with a click of a mouse, you can set up regular financial reporting and generate on-demand reports as necessary. You don't have to wait for your accountant to sift through your paperwork to tell you how you're performing; you can now monitor your performance daily if you want.
Reduces Paperwork
Storing all your financial documents digitally helps you spend less time handling paperwork and save tremendous amounts of space formerly devoted to storing all that paper. Given that the average office worker prints more than 10,000 pages each year – a large percentage devoted to financial documents – that's a lot of paperwork that can be reduced.
Saves Money
How much money do you waste just on paper documents each year? At an average cost of 9.5 cents per page, every single one of your office workers costs you $1,000 per year in print costs. The Paperless Project estimates that U.S. companies spend more than $120 billion per year just on printed forms. Moving to a digital document management system for your financial documents will significantly reduce your company's costs.
Turn to FileCenter for All Your Financial Document Management Needs
When you want to manage all your financial documents in one location, turn to FileCenter. Our document management system will help you turn your stacks of paper financial documents into secure, easy-to-manage digital files. 
FileCenter is easy to install and use. It doesn't require costly monthly subscriptions. It can work with your own on-premises network or with most major cloud services for easy file sharing by remote workers. It's the best way to manage all your financial documents.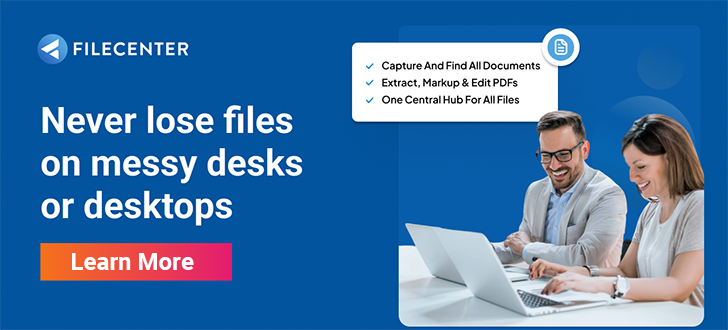 Contact FileCenter today to learn more about how a financial document management system can benefit your organization!