The Smart Guide to Business Process Document Automation
Adaptations to temporary restrictions during the Covid-19 pandemic accelerated the process of digital transformation in nearly half of businesses worldwide. Businesses initially adopted practices such as cloud hosting and remote access to accommodate physically scattered workforces. Nevertheless, 80% of business leaders reported developing new business process automation opportunities while integrating new technologies.
As businesses expect to expand or downsize their workforces in roughly equal proportions, the long-term effect of increased process automation on the job market remains unclear. The effect at the bottom line, however, is undisputed– process automation increases efficiency and reduces errors, allowing businesses to reliably do more with less in a period of increased labor competition.
73% of IT decision-makers have found that process automation in manual tasks saves employees between 10-50% of time previously lost.
52% of business leaders expect to automate 10-30% of current workloads soon.
48% of organizations already have new process automation solutions in the works.
With these trends reshaping workflows across industries for the foreseeable future, business leaders should keep their eyes open for process automation opportunities in their organizations. In this guide, you'll gain better understanding of current trends in process automation in document and digital asset management.

Key Takeaways:
New technologies have made it possible to automate many complex, repetitive tasks in the workplace.
Business process automation can improve operational quality and efficiency while reducing overall costs and errors.
Automating document processes is integral to leveraging automation in any business. Document management software can provide several critical document automation solutions.
What is Business Process Automation?
Business process automation (BPA) refers to the use of technology – typically software – to automate complex, repetitive tasks in business operations. BPA is distinct from the use of technology or software for basic math or record-keeping tasks. BPA specifically involves complex tasks that traditionally require the input of choices and variable information. Because processes that benefit from BPA likely integrate multiple information systems and rely on real-time conditional logic, BPA solutions tend to be highly tailored rather than generic, out-of-the-box applications.
What are Business Processes?
In the modern digital workplace, business processes are any set of tasks or activities that must be completed regularly within an organization's IT environment to accomplish business goals. Common business processes that are repeated frequently but also traditionally require human input include:
Formatting business documents
Document validations and approvals
Generating invoices
Data entry
Data backups
Social media calendars
Deescalating customer service issues
Document Process Automation
Business processes vary widely by industry. Nevertheless, document processes are a critical subset in nearly all business contexts. Most businesses generate and traffic in a high volume of documents, with knowledge workers across industries spending on average 50% of their time in document preparation and editing.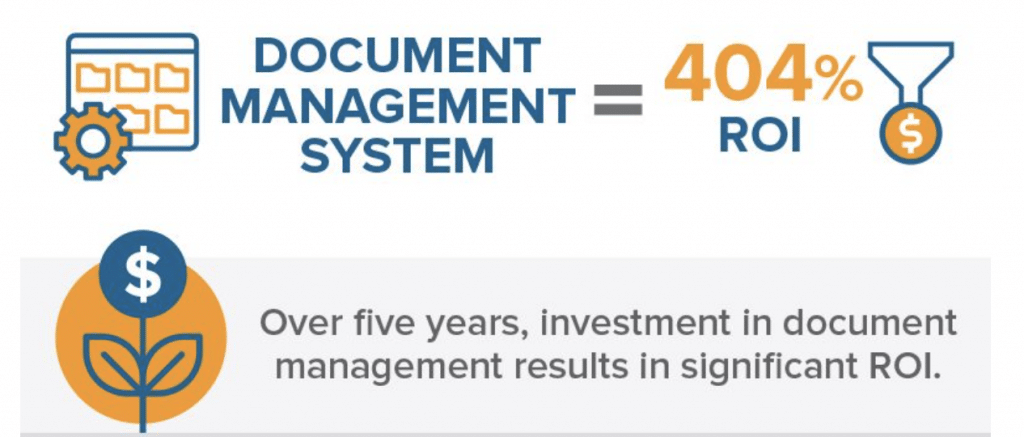 Consequently, automating document processes will feature in any business plan to modernize and leverage automation technology. Over a five year period, the average business can expect a return on investment (ROI) of 404% for implementing a document management system to organize documentation and reduce manual tasks. Automating other industry-specific tasks may prove similarly profitable. For reliable ROI upfront in any industry, however, document process automation should take priority.
Generating and Managing Documents with Automation
Document processes suitable for automation in most work environments fall into two categories: document generation and managing or editing. Generating new documents – also called document assembly – can consume a disproportionate amount of knowledge workers' time. It can also result in errors and inconsistencies when workers must collect information from partitioned systems and make unassisted formatting choices.
Locating, sharing, and editing documents already stored in a haphazardly managed repository can also further compound these inefficiencies. Document management software (DMS) can provide five critical automation solutions to these pain points.
1. Integrate Third-Party Data
The number of data sources necessary to assemble most business documents is growing. In today's digital office, generating common resources such as contracts, quotes, or marketing materials may require data from multiple unintegrated systems such as customer relationship management (CRM) software, customer data platforms, and a growing number of marketing technologies. DMS should provide access to your business' critical data sources in one location, reducing time spent gathering information and the frequency of errors.
2. Templates for Documents by Type
Generating documents from scratch wastes time and introduces problematic inconsistencies. A comprehensive database of document templates by type – reports, quotes, contracts, invoices, and others – can improve efficiency and document uniformity. Template databases can also include multiple export formats for documents of the same type to be distributed to different offices or clients.
3. Validations
About 88% of office workers report regularly experiencing problems related to documents lost or rendered unsearchable by invalid fields such as date, author, or permissible name. Validating necessary document criteria at the point of creation prevents many costly errors from propagating in your systems.

Validations are also an important part of data extraction from existing sources. Information in structured documents such as spreadsheets or recognized templates may import seamlessly. However, information in unstructured documents such as scanned images will require optical character recognition (OCR) software and possibly custom machine learning algorithms to validate automatically. DMS can perform these validations both faster and more accurately than human labor.
4. Predetermined Workflows
Business documents commonly pass across multiple desks in the assembly process. Lost time accumulates when workers need to decide for themselves at each juncture where to send documents next. With DMS, you can design smart, branching workflows from the top down that will move documents between users efficiently and without micromanagement.
5. Compliance Checks
Certain kinds of businesses are subject to legal and regulatory compliance controls such as non-disclosure agreements, privacy protections, and service agreements. Automating reviews for these features in your document templates will significantly mitigate legal risks and reduce document assembly time.
Automate Document Processes with FileCenter
Achieving high-performance document automation in your office requires integrating multiple processes and technologies. Document management is a key component of such a system, including tools to scan and validate images and PDFs as well as an integrated filing system with access to both cloud and on-site storage. FileCenter delivers document management out-of-the-box in a single purchase.
To learn more and download a free demo, visit FileCenter today.