What Is Metadata, and How Do You Manage It?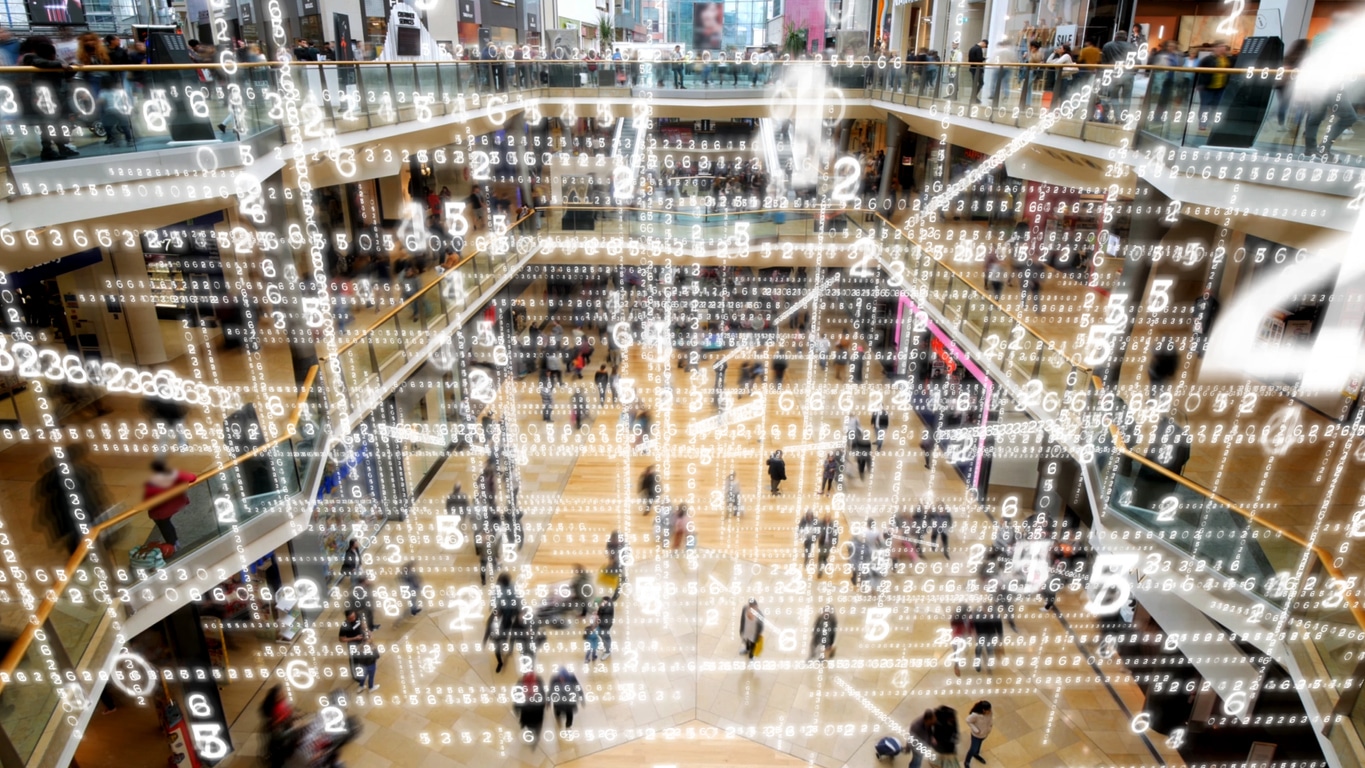 The Library of Congress contains more than 34.5 million books. It contains so many books that storing them all requires over 800 miles of bookshelves—about the same length as the distance between the Library of Congress in Washington DC and Universal Studios in Orlando, Florida.
Can you imagine looking for a specific book in those miles of shelves if they weren't in any particular order? If there was no way to know whether the Library contained it or not? If there was no way to narrow down books based on subject, author, or period?
Libraries use catalogs to record information about the books they contain. In document management, organizations similarly use metadata to record information about documents. Metadata is one of the main reasons that document management software is more effective than manual document management.

FileCenter gives users in-depth tools to manage metadata to make the most of their documentation.
Key Takeaways:
Metadata is the "data about data" that transforms documents into a useful asset
Different types of metadata are useful for different business processes
Managing metadata is easiest with the help of document management software like FileCenter
What Is Metadata?
Your documents contain data. Organizations need to record information about the documents to access that data. This "data about data" is metadata.
Managing metadata includes creating, updating, evaluating, and storing this data about data. While users can do this manually using spreadsheets, it would require hours of tedious labor and introduce new opportunities for human error. Companies use document management software to manage their metadata to increase operational efficiency and data integrity. 
Types of Metadata
Your organization can record more than one type of data about a particular document. Because there are different types of data, there are also different categories of metadata so you can easily access the most relevant information about your documents.
Traditionally, there were three main types of metadata: descriptive, administrative, and structural.
Today, companies recognize more metadata categories, including business, provenance, and social metadata.
Descriptive metadata includes information like the title, author, and subject matter of the document. Descriptive metadata helps users locate and identify documents.
Administrative metadata relates to the privacy and security of a document. Administrative metadata is important because it contains information about the copyright, permissions, restrictions, license agreements, and preservation details of a document. This metadata helps users identify who can access a document and what they're allowed to do with it.
Structural metadata contains information about how pieces of data relate to each other. This metadata is especially useful in data warehousing and machine learning, where the hierarchy of relationships is extremely important to how the system processes and stores data. Structural metadata is rarely useful to human users, but it's essential to optimize your document management.
Business metadata is information about the business use of the document. This metadata encompasses organization-specific details about what a piece of information means and how the organization uses it.
Provenance metadata is metadata about the creation or origination of a document. While descriptive metadata includes information about the author of a document, provenance metadata includes information about who uploaded the document to the document management system, when it was used, when it should be archived, etc.
Social metadata is perhaps the most important addition to the traditional metadata model. Social metadata is information about the user interactions surrounding a document. For example, chat logs, user notes, comments, bookmarks, etc. is all part of social metadata.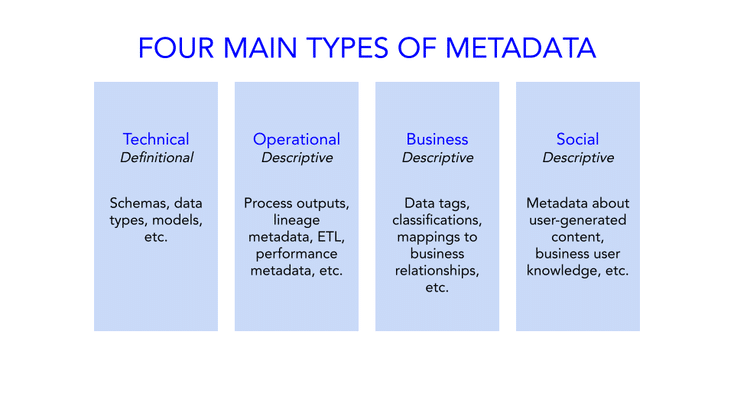 Metadata Strategies
Managing metadata is the difference between a well-oiled document management system and a cluttered repository of documents. Your documents can either work for you or make more work for you. These metadata management strategies are best practices for companies who want to take control of their documentation.
Use Document Management Software
Document management software replaces physical filing cabinets with digital directories. The main benefit of document management software is that your documents are available anywhere in the world, at any time.
FileCenter allows users to edit, convert, and sort documents and add, edit, and remove metadata. This functionality replaces countless hours of manually sorting and processing documents and tracking metadata in a spreadsheet.
Identify Key Attributes
If you were organizing a video store, would you organize movies by title? Release date? Genre? Director? A combination of attributes?
When it comes to metadata, you can't start your journey before knowing your destination. That is why identifying the key attributes of your metadata is the first step to putting your document management software to use. Attributes can include pieces of metadata like title, file type, author, date modified, department, and more.
Identifying these key attributes establishes the direction of your metadata management and guides your metadata strategy.
Establish Personnel
Identifying key attributes is an important step, but even with document management software, documents don't store themselves.
The key personnel you identify should include both data experts and administrators. Data experts help identify the documents that you will manage, and administrators are responsible for making sure you utilize your document management software correctly. Between these two categories of personnel, you can ensure that you're collecting metadata on the right documents, that you're collecting the right kinds of metadata, and that you're getting the most value out of your metadata.
Adhere to Enterprise-Wide Standards
Once you've established the software, attributes, and personnel, you must implement your metadata management plan across your organization. Set clear standards and expectations for how your organization uses metadata.
Users across your company should add, curate, reference, and remove metadata according to the guidelines you establish.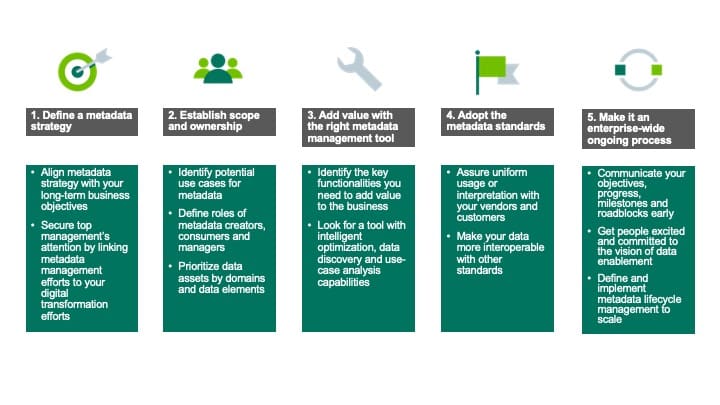 Document Management with FileCenter
Metadata management is an in-depth topic with labor-intensive implementation. Don't try to do it without the right tools.
FileCenter's document management tools make adding, editing, and removing metadata a breeze. You can add metadata with a few clicks and then use that data to sort, automate, and locate your data.
Metadata management isn't all that FileCenter can do. FileCenter makes PDF conversion and editing easy, automatically routes and appends documents based on their content, and makes sharing documents intuitive and simple.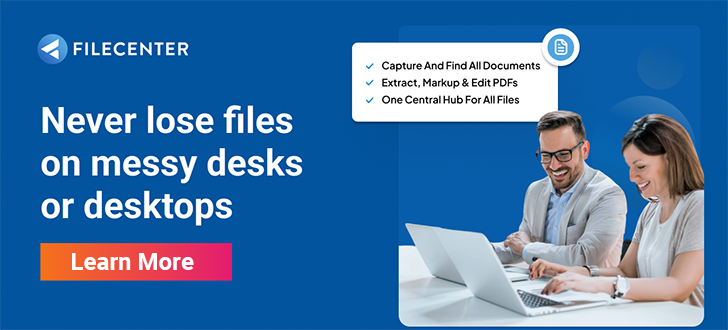 If you're ready to see how FileCenter can help you manage your metadata, download a free trial or schedule a demo today.