Why You Need an Image to PDF Converter and How to Convert an Image to PDF in FileCenter
The popularity of PDFs as the preferred file storage format for documents and records is for a good reason. Businesses who want to save on storage space and have digital access to all their documents should use an image to PDF converter that's fast, efficient, and easy to use. In most cases, PDFs use less storage while still allowing you to make changes, annotations, and add comments to documents.
PDFs are so popular that only HTML and XHTML beat them as a file format on the web. With the right software, you can convert a JPG to PDF in just a few minutes. You won't need to scour the web for an online image to PDF converter that often provides substandard results if you use FileCenter for your document management system (DMS). Below, we'll discuss why you should use this file format for all your professional documents and show you how to convert images to PDFs quickly in FileCenter.
Key Takeaways:

Portable Document Format (PDF) files are the most popular and efficient way to store your business documents
It should be fast and easy to convert a PNG to PDF without needing to use an online tool
With bulk image to PDF conversion, you can quickly turn all of your PNG and JPG files into PDFs
FileCenter has all the features you need to start converting your images to PDF in a matter of minutes
Why Use an Image to PDF Converter in Your Business
Any business that wants to streamline daily operations and fast-track its workflows should be converting all documents, images, and scans to PDFs for improved efficiency. Among the many benefits of PDFs is the compatibility with mobile devices. Almost all smartphones and tablets can open a PDF without needing additional software. Most internet browsers can also open PDFs, making it the perfect option for storing your business records. Over the last 15 years, PDFs have steadily replaced file types such as DOC, XLS, PNG, JPG, and even GIF.
Benefits of Converting an Image to PDF
The image below shows the search trends for PDFs according to Google's records. More organizations that want to digitize their operations are looking for the correct image to PDF conversion tools online every day. The result is a saturated market where you often have to go through trial and error to find the best solution. FileCenter's PDF editor and converter software give you all the benefits you expect in an office.

Some of the major benefits you gain from PDFs include:
Graphic integrity and fidelity – PDFs display consistently over all devices and operating systems according to the original layout
Multi-dimensional document creation – You can integrate all types of content into your PDFs, including images, videos, text, animations, and audio
Flexible form creation – PDF editors allow you to add form fields, hyperlinks, and buttons to documents for capturing information consistently
File and document security – By password-protecting PDF files, you can control who has access to any document or record easily
You can also compress PDFs for faster transmission and let team members collaborate by adding comments, annotations, sticky notes, and a host of other valuable markups directly on the document.
How to Convert an Image to PDF in FileCenter
In FileCenter, you can quickly scan, organize, and convert your images and documents to PDF. After installing the software and organizing your folders into cabinets and drawers, you can use the PDF converter from the actions menu.
To start, select the PNG or JPG file you want to convert to PDF in the drawer and click on the Actions menu. You'll see three options available:
1. Open in the edit tab
2. Convert to PDF
3. Advanced PDF conversion
The "Convert to PDF" option will open a new window with standard settings. You can change the document name, choose the page size, and adjust the quality settings on this window. Once you are satisfied, click on "Start Conversion" to begin the process.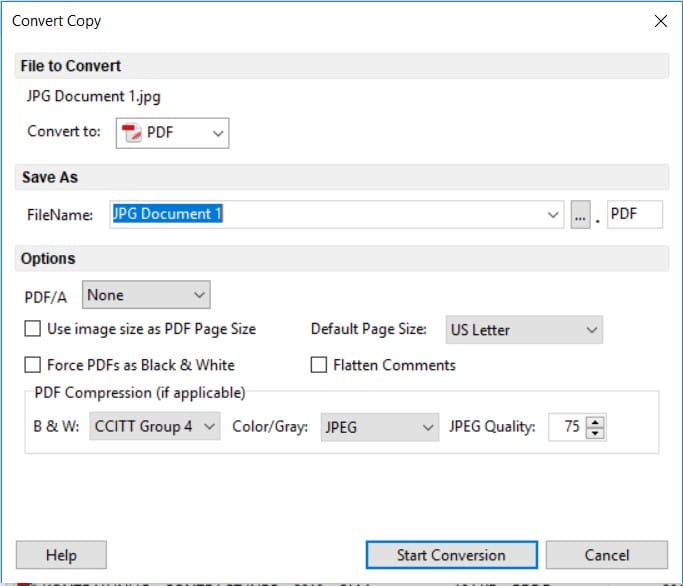 Using the Advanced PNG and JPG to PDF Conversion
In the advanced PNG and JPG to PDF conversion option, you have some additional settings to help streamline your conversion process. Instead of the PDF settings window, a new workspace gives you some additional settings to help organize your PDFs. Note that you can also select multiple PNG and JPG files and convert all of them in a single process.
The advanced conversion option allows you to:
Set a password for the files
Delete the original files after conversion
Add keywords to find the files easily in the future
Change the conversion quality settings and add a date or timestamp to the files
You can choose to apply your settings to a single file or all the files and click on the convert button to bulk-convert JPG to PDF. When the process completes, you'll see the icons change from an image file to a PDF in the list view.

You should also note the change in file size after the conversion. If you are using cloud storage for your documents and images, converting them to PDF will help you optimize your storage space. The bulk image to PDF conversion tool is the most efficient way to turn your PNGs and JPGs into PDF files. To view the file, just double-click on it and select the PDF program you want to use or select "open in edit tab."
Quickly Convert Your Images to PDF in FileCenter
FileCenter is a feature-rich document management solution that helps you organize all your files into structured cabinets and drawers. It doesn't rely on a database, making it easy to go from your current folder structure into an organized storage system. You can search for your files, convert any document or PNG to PDF, and even extract text from a PDF using optical character recognition (OCR). With FileCenter, you can streamline all your business workflows, reduce your storage requirements, and quickly turn PDFs into editable documents, even from scanned files.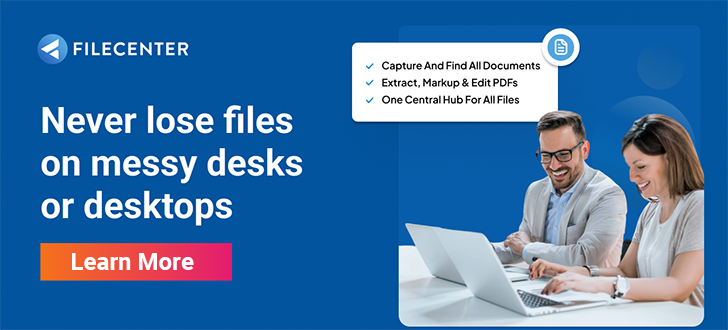 If you want to convert images to PDFs and take control of all your files, download the free trial here.