The 30-Day Document Digitization Strategy
Yielding an average 40% improvement in operational efficiency and a 35% increase in customer satisfaction, digital transformation in the workplace has become a critical adaptation for thriving in the modern work environment. For many businesses, the hassle of replacing paper processes and getting through the initial challenge of document digitization continues to inhibit a full commitment to digital asset management and operations.
However, offices with large legacy archives to convert should be aware that digitizing paper documents isn't as manual and time consuming a process as it used to be. Recent developments in scanning technology and optical character recognition (OCR) software have put digitization within reach for offices of all sizes and budgets.
Learn what document digitization is and how to formulate a 30-day strategy to achieve it.

Key Takeaways:
Document digitization is the process of converting paper documents and records into structured, machine-readable digital files using scanning hardware and optical character recognition (OCR) software.
Having securely stored, searchable digital files is integral to document management in the modern workplace.
With modern OCR software, businesses can automate the more time-consuming manual tasks of document digitization.
What is Document Digitization?
Document digitization refers to the process of converting paper documents and records to machine-readable digital files. Digitization is a two-step process.
Scanning: A camera – traditionally in a flatbed scanning device, now often a smartphone camera – captures a digital image of printed or handwritten text.
Text File Conversion: OCR software interprets the text and converts it to a text file format such as PDF or DOCX.
Simply scanning a document does not digitize it. It merely creates an image file of unstructured data. Digitization yields structured data and occurs at the point OCR extracts information and renders it in an indexed machine-readable format.
Understanding OCR Software
Early applications of OCR software performed data-entry assistance with specific document types such as passports, licenses, and invoices. Contemporary platforms can not only interpret large volumes of unstructured data. They can also – through AI-based pattern recognition and machine learning – perform sophisticated indexing functions, eliminating the need for human readers to spend hours manually reading and sorting incoming documentation.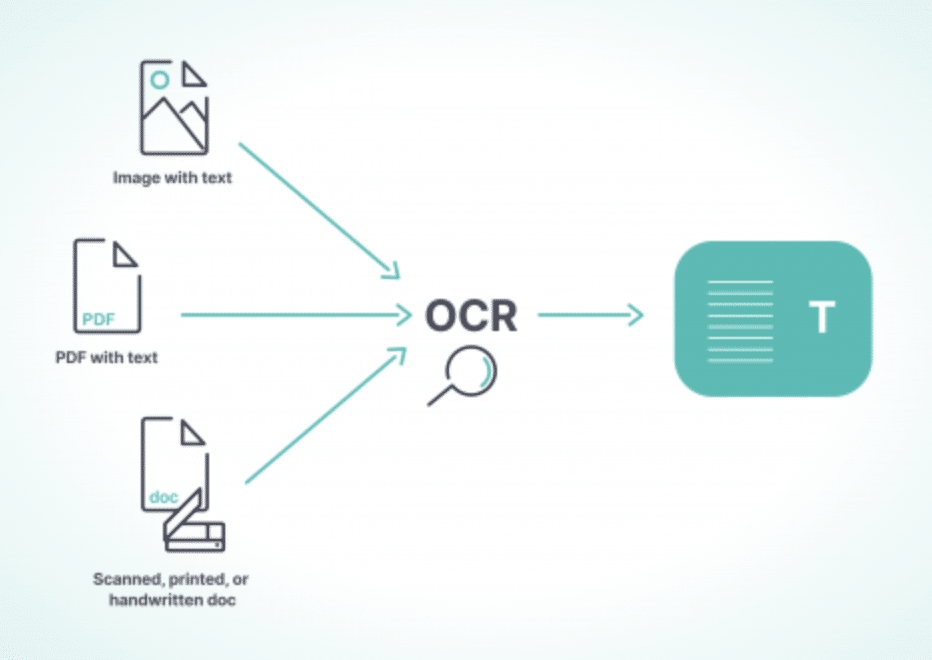 Although all four are generally referred to as OCR, there are four kinds of computer vision software used in document digitization.
Optical Character Recognition: Applies to typewritten text, extracts one character at a time
Optical Word Recognition: Applies to typewritten word-length units with spaces
Intelligent Character Recognition (ICR): Applies to handwritten and cursive-type characters in an evolving database of known styles
Intelligent Word Recognition (IWR): Similar to ICR but applies to extracting word-length units from handwritten texts
How Document Digitization Using OCR Works
With OCR-integrated document management software, businesses can automate nearly all of the digitization processes once a scanner has captured an image file. Users can configure the system to:
Apply custom rule sets to generate names, file types, and destinations for incoming documents.
Extract metadata so that digitized files will be intelligible to various search queries.
Render documents in machine-readable formats for storage and indexing. These include markup languages such as HTML and XML, JavaScript Object Notation (JSON), and comma-separated values (CSV).
4 Steps to Digitize Your Documents in 30 Days
Regardless of where your business currently stands in the process of digital transformation, you can take certain steps to set a comprehensive document digitization plan in action.
1. Identify Your Existing Paper Processes
As you begin to digitize your archives, you don't want to find that while you're pulling boxes out of one room, someone else is adding more to another. Make an accounting of your existing processes that generate paper documents and prioritize processes for elimination and replacement with digital technology.
2. Evaluate What Paper Documents and Records You Have in Storage
Regardless of whether you have a few file cabinets of paper documents or several warehouses, you will need to inventory your current storage holdings and decide what you should digitize. There's no fixed formula for estimating paper digitization costs outright. Rather, the cost of any conversion process will depend on several variables.
Physical Storage Costs: The determining factors will be your available space, cost per square foot in your office or offsite, and real estate pricing trends.
Legal Liabilities: Do your records contain any legally sensitive information that requires handling by specific personnel? Do you have records that you can destroy after a fixed disposition period, eliminating the need for digitization?
Third-Party Help: If you need to digitize large archives in a short period, you may need to hire temporary staff to operate the scanning equipment. In more relaxed time frames, you may be able to handle the process in-house and only need to invest in the necessary equipment and software.
3. Determine Your Equipment and Software Needs
The scale of your digitization project will determine what physical equipment you will need. If your office archives are relatively small and you already have one or two scanners, you may only need to invest in OCR-enabled document management software.
However, larger operations will require a fleet of dedicated scanners. For high-capacity work, you should insist on certain features: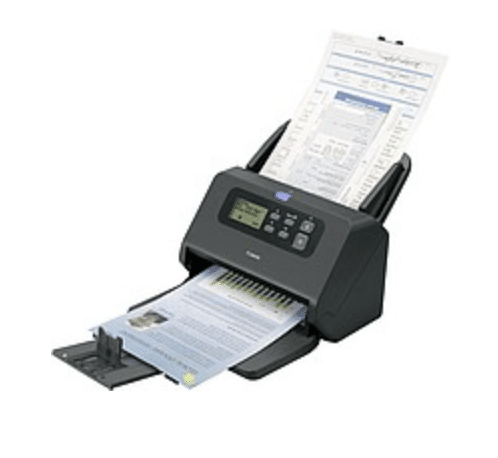 Handles multiple document types (thick or thin pages, embossment, and plastics)
45-60 pages per minute
Image processing CPU
Ejection sensors
For the digitization process, a comprehensive document management software platform will be critical to automating otherwise time-consuming, error-prone filing tasks. Your OCR software should contain configurations for:
Automated document identification through rules
Automated name generation
Automated routing to the correct folder location
Conversion to appropriate file type
Network monitoring for new scans
4. Migrate Your Files to Cloud Storage
Going paperless reduces costs, improves document security, and produces more efficient workflows. Cloud storage for your digital assets will further enhance each of these benefits: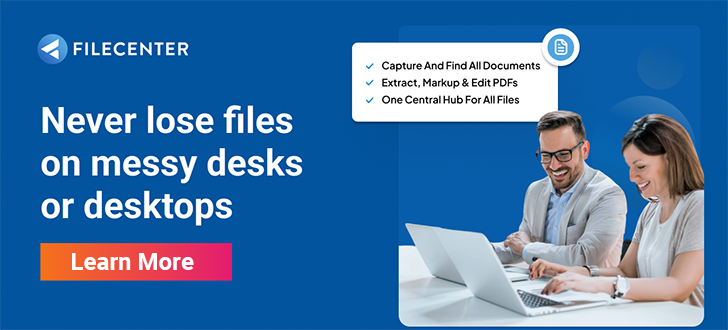 Remote access to your files will speed up communication.
Scalable storage options mean you will only ever pay for what you use.
Mirroring your data in several locations mitigates the risk of catastrophic data loss.
Companies converting to cloud storage experience as much as 80% reduced energy consumption.
Tackle Document Digitization in Your Office with FileCenter
The repetitive manual tasks of converting, naming, and routing files regularly impede the process of document digitization. With FileCenter's Automated Routing and Batch OCR Software, you can automate these tasks with a few clicks of a mouse.To learn more and download a free demo, visit FileCenter today.