How (and Why) to Create a Customer Onboarding Document
No matter what kind of business you run, how well you manage your relationships with customers will determine your success. Once you've put in the hard yards and converted a lead into a new customer, every interaction needs to broadcast how much you value their business. A customer onboarding document guides both your staff and the customer through the initial interactions and sets the tone for all future engagements.
Converting new customers is no walk in the park. Research shows that it costs 16 times more to build a new relationship with a customer compared to cultivating loyalty from existing customers. This makes every action you take after signing up a new customer one of the key components in your company's long-term growth. Just a 1% increase in customer retention can increase your company's valuation by as much as 12% over five years.
The customer onboarding process will play a significant role in customer loyalty, satisfaction, and retention. Below, we look at why you need to create a customer onboarding document and what you need to include when drafting one.

Key Takeaways:
A customer onboarding document is one of the essential documents required for a growing business
As customers have more choice than ever before, having an effective client onboarding document and process is essential for customer retention
The customer onboarding checklist should include all the information that your staff require to welcome a new client and inform them what to expect from your organization
Using a document management system helps you to control all the documents and content that staff need when onboarding a new customer
What is a Customer Onboarding Document?
A customer onboarding document describes the process you use to ensure each customer receives a consistent experience from day one. The document will fall into your wider customer relationship management (CRM) policy and process in the documentation hierarchy.
As the document describes each portion of the customer onboarding process, it will help your staff to execute each step consistently every time. You can also track the success of your current strategy and effect any changes required by simply updating the document and ensuring that everyone accesses the latest version from your document management system.
It's also common for organizations to have multiple documents that staff should use to onboard new customers.
Depending on the type of company, these usually include:
A document describing the organization's persona when interacting with a customer (sometimes this even includes a script for how to communicate with customers)
A policy to control how representatives from your organization communicate with new customers and how they can escalate any issue to help resolve them
A checklist of items that each onboarding activity should include at a minimum
A welcome packet of information that you can transmit to a customer to give them all the details about how to interact with your representatives in the future
Any additional information relating to your products or services that you think the customer may need to know when dealing with your company
The approach you take to documenting and managing customer onboarding requires careful consideration and be part of a more comprehensive customer retention strategy. Consumers now have more buying power than ever before, and you're competing against other organizations who have their processes and documents in order from day one.
Customer churn is a real concern when it comes to today's businesses. According to the stats, 23% of churn is due to poor customer onboarding practices.

How to Create a Customer Onboarding Document
To make sure you have an effective onboarding document, you need to review your current process and all the available information in your business. You can then map out the customer's journey from day one and create a checklist that your staff can use to ensure they execute the process consistently.
The checklist should include elements like:
Welcome and intake documents – These documents tell the client more about your business while sourcing any additional information from the customer that you may need.
Legal aspects of the deal – You may need the customer to sign a non-disclosure agreement or accept your terms and conditions, so these need to form part of your onboarding process.
Tax and financial details – If you're adding the customer to your accounting software, you'll need their tax information to ensure they have your payment details.
Communication and customer service processes – To make sure the customer knows how to get in touch or request help with an issue, send a description of the communication and service request protocols.
Product and service-specific information – Depending on the products or services you provide, the onboarding document pack should provide the customer with all the details about your offers.
Record keeping and file sharing – A long and fruitful relationship will depend on your record-keeping practices. You should inform the customer of how to submit documents and how you will keep their information safe and secure.
While your staff will use the checklist for each new customer, you'll need to ensure they have access to the required documents during the process. Ensure you have a document management system that makes finding and retrieving the necessary documents easy to prevent costly delays. There are also regulatory requirements for financial services organizations to follow when onboarding new customers, as indicated below.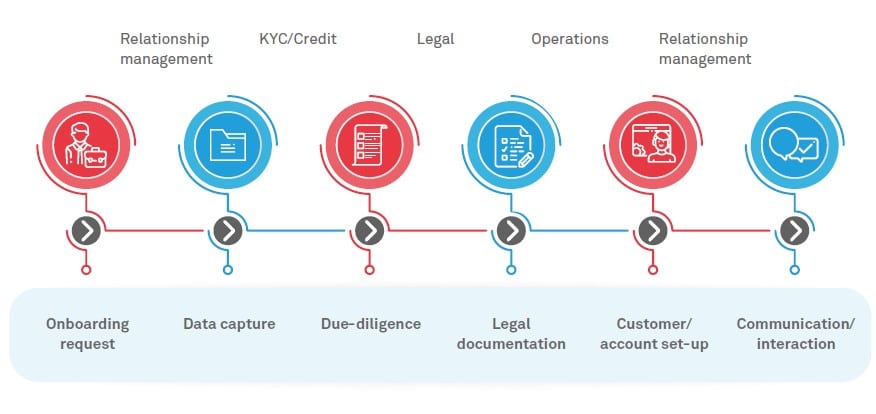 Establish Effective Control over Your Customer Onboarding Documents with FileCenter
To ensure your resources always work on the latest version of your customer onboarding documents, you'll need an effective document management system (DMS). With FileCenter, you get the required control and access to your documents without facing issues like content or document sprawl.
FileCenter helps you manage your business documents from a centralized repository in an easy-to-use, intuitive DMS. You can configure your system to accommodate any of your business processes and provide access to the documents on cloud solutions like Google Drive, OneDrive, or Dropbox. FileCenter helps you streamline all your documentation storage, creation, and editing processes.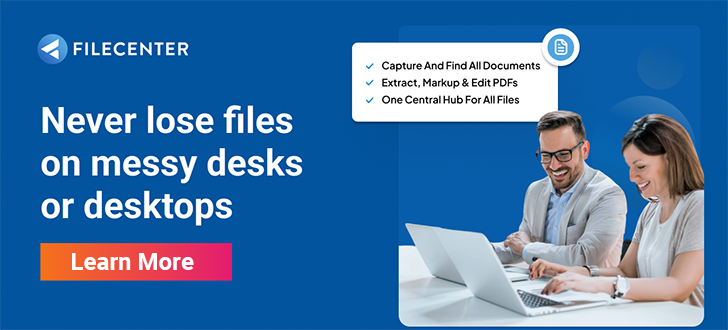 To see how FileCenter can help you optimize your customer onboarding documents, request a demo today.