Features to Look for in Your Paperless Software
If you're thinking of going paperless, prepare to enter a world swarming with features. Which paperless features are important? Which aren't? Which features does the best document management software have? Ideally, you want to find a solution that meets your basic requirements but doesn't burden you with a lot of expensive features you'll never touch.
From our experience interacting with clients, we find that the following are the most important features to most small businesses. These features should be considered "must haves" if you want to have a smooth and seamless transition to a paperless office.
PDF Scanning
Your software should be able to scan all your documents straight to PDF and store them in one step. The very fastest scanning takes you straight from paper to a properly named and filed PDF. Searchable PDF. That means, it also needs to include OCR as a seamless part of the process. This is one area where a good solution can really trim off keystrokes, mouse clicks, and user interaction. If you are moving thousands of documents and files to the digital platform, you need one that does it effortlessly and quickly.

Intuitive File Organization
Efficient paperless software should make your file organization very easy. FileCenter, for instance, does that through a Cabinet/Drawer/Folder layout. This way, you can easily find whatever you need in very short order.
However, if you prefer other options, the software should be able to provide those too. Your software should make this easy since you do not want to have to spend much time organizing and arranging your files.
Easy File Sharing Across the Office Network
If you email files back and forth across the office network, you have a serious failing. Sharing files on the network should be so easy and so transparent, your staff will prefer it to email.
Seamless Integration with the Cloud
In an increasingly mobile world, you can keep your staff productive by ensuring that they have access to the office files anytime, anywhere. That's where the Cloud comes in. A good Cloud service will make your office files available through mobile devices or even remote computers. The trick is picking a Cloud service that's compatible with your paperless office software.
In the case of FileCenter, it stores your data in regular Windows folders. This means it is 100% compatible with all of the popular Cloud services, like Google Drive, DropBox, and Microsoft OneDrive.
Easy Conversion to PDF
PDF is the world's most popular digital document format. This is not surprising, seeing as PDFs are more secure, can be encrypted, and maintain a true image of the original document.
This means that your paperless software should have the ability to convert all file types to PDF with just one click. If you have to spend more time converting files with your paperless software, it will result in a loss of efficiency.
Ability to Scan to Word
Your paperless software should provide you with an option to scan to an editable document format like Word. This is important if you need to be able to edit your scanned documents or use portions of them in other documents.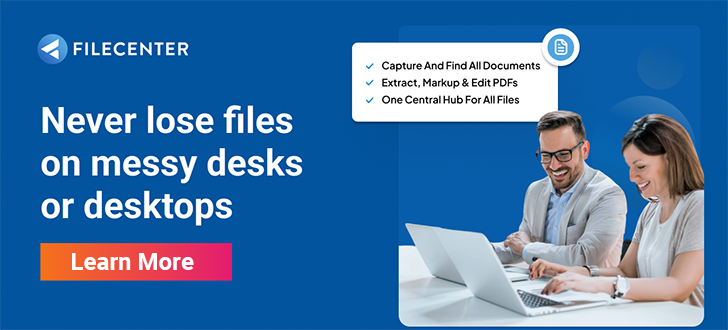 Availability of a Recycle Bin
If you have ever mistakenly deleted an important file and are unable to recover it, then you know how painful and frustrating the experience can be. So, whatever you do, ensure that your paperless software has a recycle bin where you can easily access a file in case it is mistakenly deleted.