The Necessary Reality of Going Paperless for Small Businesses
Files and the bulky, metal cabinets that hold them are disappearing from business offices at an alarming rate. As these remnants of the past say their final farewells, the digital filing solutions replacing them are being welcomed with open arms. Following are reasons that illustrate the value of paperless systems, and how FileCenter is taking these reasons and using them to great effect.
A paper-free office is truly a sight to behold and one that is popping up more and more frequently. Digital filing is a multi-pronged workhorse, taking all the procedures related to traditional filing and optimizing them.
File searches can be done from your computer, at your desk.
Restructured digital organization creates space, de-cluttering work stations.
Customers appreciate smoother interactions as access to their accounts becomes available in a matter of clicks.
Employee collaboration improves as file sharing becomes easier through a protected cloud or office network.
Small Business
Going paperless should be in every published book about small business. A solid filing system is an important tenant of growth, and paperless systems offer one of the most reliable ways to cultivate that solid structure.

Often times, small companies which haven't made the transition to a paperless system view the procedure as a Herculean task. Usually it is, involving the scanning of thousands of documents at a time. But once you get past the initial scanning portion, your new, streamlined process makes it all worth it.
FileCenter, the Solution
Even then, scanning doesn't have to be a huge, derailing affair that halts work and loses money. The innovative FileCenter software expedites scanning, setting you on a quicker path to paperless freedom.
FileCenter has the ability to automatically send items to the appropriate folder once scanned, eliminating the need for a filing assistant. The software merges all of the important documents you rely on and organizes them – emails and PC files as well. As you begin to customize the way you use FileCenter, you will appreciate how it can help you set up standardized file names and reusable folder layouts. It was designed by individuals who know what components make up effective file organization. FileCenter reflects that notion.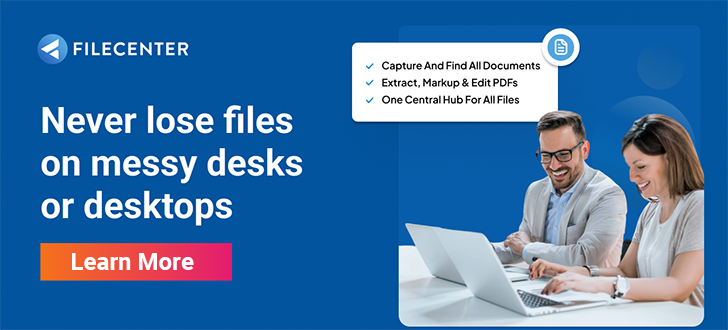 If you are looking to make an effortless shift to a paperless home or office then FileCenter DMS is the way to go. Visit the website or call (801)-722-7099 for more information!