Amazon Review
Maybe everything you didn't know you needed
By britishbob
I had decided to embark on a project of digitising all of the paperwork that builds up around my home and was looking for decent scanner software to help. After 10 years in my house and being a bit of a magpie the amount of paper collected was a nightmare.
After searching the web and trying several claimed solutions before rejecting them all for one reason or another, I found FileCenter. This is where I am staying for two main reasons.
Software
I get very little time in my life. My job ensures that I am out of my house betwixt 15 and 23 hours during the day and this schedule is chaotic to say the least. I had downloaded FileCenter on a months trial and initially when looking at FileCenter it looked very complicated in the context of my life (time to find for the learning curve) so I just used the program in "edit mode" which could perform scans and save them to a hard drive. After a week or so I was contacted by FileCenter's support team to find out how I was getting along with the trial and if there was anything they could do to assist with any problem I might have been having. I wrote back thanking them for their offer and mentioned how I was using the program. I was surprised to get a reply giving me some hints on using the program and inspired by this I made 10 minutes to take a closer look. 10 minutes was all it took and soon the power of FileCenter had been released and at my fingertips.

While I still haven't had the time to really sit down and play with it, FileCenter scans my household bills and other documents and files them into preassigned drawers for me automatically. Whereas before I was scanning a document and then having to use the Windoze save dialogue to name the file … find the directory and save, this burden has been removed. All I have to do now is click on the drawer and name the document before scanning and the rest is automatic even on network drives. At first I couldn't believe it was so easy and I would open each document to double check but I have now learned to trust FileCenter, I just scan, shred and forget. I can't say that (as a domestic user) FileCenter would be perfect for every situation, but I can't think of a situation where it wouldn't be. I bought the product from Amazon at the end of the trial without hesitation even though it was more expensive than I had initially decided to pay.
Support
As mentioned above I had been contacted by the support team and found their advice to be not only helpful but very prompt but is that an isolated incidence?
As you have read I bought FileCenter (version 7) from Amazon and I knew that version 8 was about to be released. I had contacted FileCenter's support team about this and was told that free upgrading would not be problem.
So on the day I bought version 7 from Amazon I noticed that version 8 had already been released. I immediately downloaded the new version and installed it. Last weekend I opened FileCenter and saw a message telling me that the serial number I was using was for the wrong version and FileCenter promptly closed.
I wrote to the support team on Saturday and noted the disclaimer that a reply is usually expected by the "next business day" so expected nothing to happen for two days at the earliest.
Around 3 hours later I checked my email and was surprised to see a reply from "Jeff" at FileCenter Support. He said that I could not be found in their records and asked if I had bought FileCenter from Amazon? Who apparently don't supply sales information. He further asked If I would supply details of my purchase to him which was a simple copy and paste from my Amazon email receipt. Again I went off and expected to hear no more until Monday.
Again I was surprised when I woke the next morning to find that Jeff had written late (10 p.m.) the previous evening supplying me with a new serial number for FileCenter 8.
I am sorry, but in these days of broken software and indifferent support, service like that cannot be beaten and is worth the cost of the software alone. I replied back to Jeff on the Sunday commenting that he was working late on a weekend and he replied that even on a weekend they like to check their "support queue."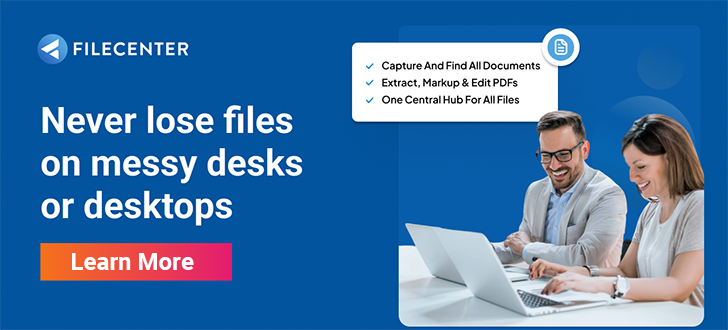 Conclusion
I have to say that I am totally sold! The software is fantastic and even better, backed with rock solid support. I don't know what the requirements are for someone reading this review may be but I would suggest that they download the trial version and give it a spin because it is probably everything you need and if it isn't, the support team can try to make it so.