Paperless Office Document Management Software
by Sara Angeles, BusinessNewsDaily Staff Writer
Drowning in paperwork? Try a paperless office file management software.
Small businesses have a vast range of technology solutions available to solve any problem — and new ones are being introduced every day. The question is, are they right for your business? To help you decide, "Would You Use It?" explores these technologies and how they can help your business.
Is your business drowning in paperwork? For many companies, the problem of having too many files and documents often culminates in wasted time searching for information and trying to have some semblance of organization. Pretty soon, piles turn into mountains that result in information overload and paperwork purgatory. If this sounds a lot like your business, it's time to take control. This is where a paperless office can help.

Imagine having a streamlined way of dealing with documents and digital files, one that can help you increase efficiency and become more productive. FileCenter DMS, a company that aims to make life easier for businesspeople who have to deal with a never-ending stream of paper, emails and electronic files, offers FileCenter, a software tool that can transform your paperwork-burdened business into a paperless office. With FileCenter, businesses can scan, organize, find and edit files — without the wasted time.
Jeff Pickard, CEO of FileCenter DMS document management software, discussed with Business News Daily the benefits of file and document management, how a paperless office works and how FileCenter can help businesses take control.
Business News Daily: What problem were you hoping to solve with this technology?
Jeff Pickard: It's a challenge for companies to keep up with all the paperwork and electronic files that come into a home office or business every day. We wanted to find a simple way customers could scan, organize, find and edit paper and electronic documents, and we set out to create a solution a decade ago. A paperless approach is more efficient for companies and better for the planet.
BND: Why should small businesses use this type of solution?
J.P.: Any business that handles forms, correspondence, emails, files, printouts, personnel or client files, charts, data or any other type of paper or electronic document should use this type of solution because it makes them more efficient. In short, virtually any type of small business should go paperless!
BND: Which types of businesses can benefit most from FileCenter?
J.P.: We're convinced that any type of business is better off moving to a paperless solution. It's a great way to organize all paper and electronic files in a central location where everyone with permission can access them. It also puts every file at employees' fingertips in just seconds with advanced keyword search capabilities. We have happy customers from virtually all industry sectors, including professionals like attorneys, insurance offices, HR managers, retail store managers and many other types of businesses.
BND: What do you think are FileCenter's most important features for small businesses?
J.P.: FileCenter makes it easy to scan paper documents, and it automates the filing of electronic documents. It's organized in a way that is easy to understand – it's like an intuitive electronic file cabinet that can be shared via an office network or cloud.
FileCenter's optical recognition technology (OCR) lets users search by keyword to retrieve documents instantly, even those created from images like receipts and handwritten notes. It has a preview mode that lets users view files pulled up by a search before opening the document.
FileCenter converts documents into PDF files, using the world's standard electronic document format to make sharing easy, and it provides built-in editing tools and wizards. With FileCenter, users can pull text from a printed document into Word to make edits quickly and easily. File Center also makes it simple to email paper documents and add more pages to an existing scan.
BND: What is a real-world example of how FileCenter has helped small businesses?
J.P.: One of our many satisfied customers is a solo-practice lawyer who contacted us to let us know that FileCenter has made his life so much easier by virtually eliminating unorganized paper and electronic files from his office and making it fast and easy to find important documents. With FileCenter, he is able to automatically organize electronic files without having to use a Windows Explorer portal, which eliminates a major hassle associated with other types of paperless office software solutions.
BND: What makes FileCenter different from that of your competitors?
J.P.: The fact that our products integrate with virtually any application and many other systems makes it a snap for offices to go paperless. We're integrated with Microsoft Office, including Outlook, which means it's easy for users to forward documents and create replies to email messages without leaving FileCenter. We offer the most intuitive system with the most advanced search engine on the market.
BND: What are some misconceptions people have about using this type of technology?
J.P.: When paperless office software first came out, the scanning process could be incredibly cumbersome and time-consuming. With an advanced system like FileCenter, it's fast and easy. The misconception about the scanning process is probably the biggest barrier to widespread adoption of this type of technology.
BND: What do you think is the biggest challenge to implementing this technology?
J.P.: The biggest challenge is probably overcoming fears about what it would take to go paperless. People still have that image in their minds of having to stand for hours in front of a scanner feeding in documents. But with FileCenter, that hassle has been eliminated.
BND: What types of support do you offer to help business overcome that challenge?
J.P.: We invite companies that are interested in paperless operations to take a test drive via a 30-day free trial — with no obligation to buy or sign a long-term contract. That way, they can see for themselves how easy it is. Once businesses become a FileCenter customer, we offer ongoing support to help them fully realize the benefits of going paperless.
BND: Where do you see the future of this technology going and how can small businesses stay ahead?
J.P.: We're convinced that someday, every business will be paperless. It's great for the companies since they are able to quickly scan, organize, find, retrieve and edit documents. And it's great for the planet since it helps eliminate wasted paper. Small businesses that want to stay ahead should check it out and become early adopters.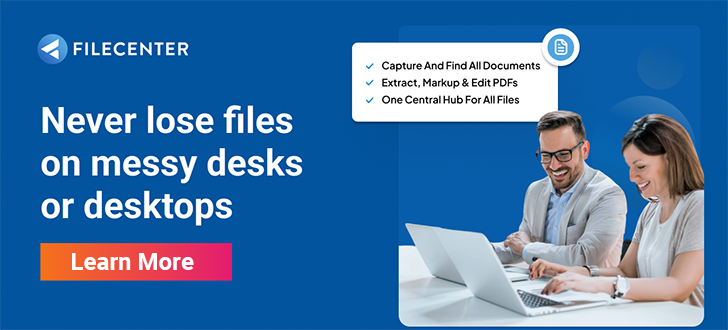 Originally published on Business News Daily.