What are the Advantages of Using FileCenter Pro Over Windows Folders?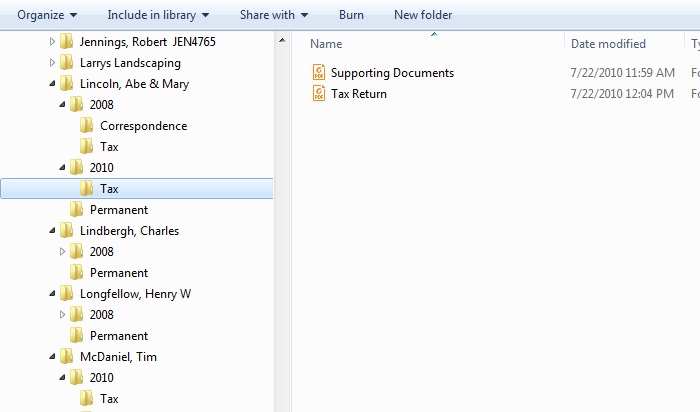 FileCenter Pro vs. Windows Folders: What are the advantages of using FileCenter Pro over Managing Windows Folders?
Some common questions asked when talking with a business owner looking at using an electronic document management solution are, "Why can't I just use Windows folders?" or "What are the advantages of using FileCenter over managing Windows folders and just printing documents to PDF?"

Disadvantages
There are several disadvantages to using Windows folders. Inconsistency in how file folders are created, how folders are named and how documents are labeled are all too common when using Windows folders. We have all seen it, over time, the way that we name folders and files changes, and there is no uniformity in the way that we do it. In most cases, there just isn't a structure in place for naming folders and files. Searching for documents can also be cumbersome. Depending on how complex you make your Windows folder structure, you can spend a considerable amount of time clicking on folder, after folder. Folders are also accidentally dragged and dropped into other folders, and in some cases, hours are spent looking for where that one file folder went. The one advantage that Windows folders has over any electronic document management system is that it is free to create. The question is, is it worth the time and effort to do it?
Advantages
The FileCenter Document Management Suite provides a way to capture, manage and protect your data quickly and easily. FileCenter allows its users the ability to associate files and documents with specific client folders using a pre-defined and flexible template feature. Our clients are able to set up each client folder and sub-folders for optimal organization. The software delivers the ability to configure a folder template that may be applied to each client added to FileCenter, making it easy to create a consistent folder structure that as a user, you control. To make things even easier, you can have pre-defined document names, creating the consistency that your office needs when naming files.
FileCenter allows you to store files in a variety of ways, from printing to scanning and integrations with other programs such as Microsoft Office. With scanning, you can scan with Zonal OCR, barcodes or with page separators and store files quickly by clicking on the folder you want to store to prior to clicking the scan button.
Searching for data is also easier with FileCenter. Through FileCenter you are able to search for documents using full text searching (commonly referred to as OCR), even just by searching for a client's file inside your electronic file cabinet. Once the document is found, a simple click shows you a preview of the document allowing you to view or check the file out for editing.
Don't be intimidated by using a document management system like FileCenter. FileCenter was designed to be simple to use and understand. Give them a call, they will be glad to show you firsthand how intuitive it is to capture, manage and protect your data.