How to Perfect Your Document Management Workflow
When you hear someone asking whether "you still haven't found what you're looking for" in an office, chances are they aren't referring to the famous pop tune from the 1980s. Without an organized and efficient document management workflow, office workers often find themselves asking their colleagues, "you too?" while looking for the critical business information required to do their jobs.
Even in this glorious age of technology, it may surprise you to learn that most office workers still suffer the frustration of poor document management. A survey from 2021 found that 50% of office professionals waste most of their days searching for documents and files instead of focusing on their work. Cluttered filing systems, unorganized network folders, and badly named files make even the most diligent employee's life a nightmare. You either have to send a request to the person responsible for the document and arrange your work around their schedule or just recreate the document yourself to keep the workflow going.
Perfecting your document management workflow can reduce the stress on your employees, streamline your business processes, and drastically increase the productivity in your office. The difficulty is not in the how and not in the why.

Below, we look at how you can optimize your document and record management workflows using a document management system intended for modern businesses. Following these recommendations will allow you to enjoy the music from the 1980s instead of lamenting the same document management frustrations from that bygone era.
Key Takeaways:
After decades of technological advances, perfecting a document management workflow is still a challenge for most business owners
When you need to increase your office productivity, documents and records management is the best way to reduce the amount of time wasted by employees looking for information
Using technology, integrations, and a formal process can help your resources to get through tasks quickly and demonstrate compliance with your business procedures
Why You Should Review Your Document Management Workflow for the Digital Age
Digital documents are now the standard way of doing business. You may still need to have some paper documents available in the office, but these are negligible compared to the droves of business forms, records, and documents you have to organize, store, retrieve, and secure every day. A document management workflow covers all your primary business processes.
These include:
Customer document intake – The interface between businesses and customers often relies on application forms and collecting the supporting documents
Invoices and accounts payable – Ensuring the timely issue of an invoice and keeping track of your expenses remain a critical business function
Human resource documents – Employees depend on guides and policies to guide them through processes like filing for leave or submitting an expense report
Proof of compliance – Checklists and audit documents help you demonstrate your compliance with different regulations and need to be easily accessible
Operational and technical information – Documents that relate to your products or services should be on-hand to assist employees and customers when the need arises
These documents are essential to maintaining productivity in your office. If staff cannot find them, don't know where to file them, or don't even know they exist, you're suffering from a deficient document management workflow. Here are four ways you can perfect your document management processes.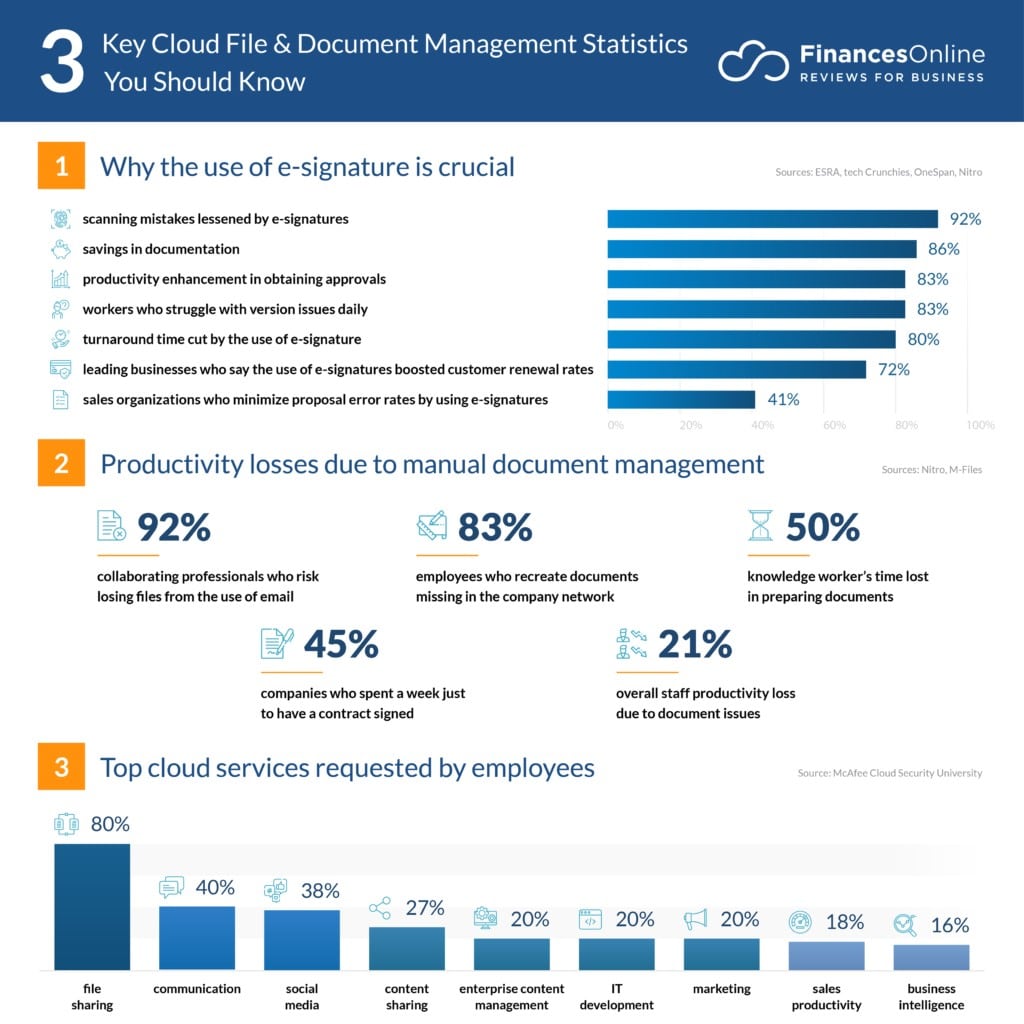 1. Let the Technology Work for You
Cloud storage, automated workflows, and timely alerts are good in principle, but where do you start? When you're assessing new document management workflow solutions, you need to consider how difficult it will be to implement, maintain, and optimize your technology stack if you want to streamline your business processes.
Modern document management solutions have the same drawbacks as their enterprise-grade predecessors. If it's not easy to learn and use, requires IT experts to administer, or boxes you in to their way of doing things, the gains you get from your investment will be marginal, if you get any at all. A solution like FileCenter integrates with your current business systems and is easy to learn, so you won't need additional resources just to manage the system.
2. Formalize Your Document Management Workflows
Key processes require a formal workflow to ensure consistent and timely execution from workers. Without a formal workflow for processes like onboarding new customers, you risk some of the documents falling through the gaps. Map your key processes and look for a solution that optimizes each step, such as searching for documents quickly, scanning PDFs with OCR, and integrating other Line of Business (LOB) applications. However, remember that you don't have to accept a substandard document management system just because it has a workflow engine. Rather look for a document management solution that you can integrate with a workflow engine than the other way around.
3. Differentiate between Documents and Records
Documents are living objects, which is to say that they remain editable after you've created them. Alternatively, records provide an instance of proof of each workflow's execution. When employees create Microsoft Word documents, ensure they convert these to PDFs before sending them to clients. Today's PDF editors also allow you to make changes, but it's easier to secure a PDF by creating a digital form and keeping track of any alterations after sending out the original file. Knowing the distinction between the two types of data containers will help you establish the required workflows to maintain control and ensure compliance. 
4. Audit Your Team's Adherence to the Workflow Regularly
Every process can only improve if everyone follows the steps as required. When you have to demonstrate compliance to auditors, you'll need to track the history per digital file and show how you fulfill the requirements of privacy laws, information classification, and record-keeping. While some solutions will automatically generate these types of audit trails, they are expensive and not suitable for most SMEs. FileCenter can help you organize your files, establish naming conventions, and keep your PDF records available to streamline any audit procedures.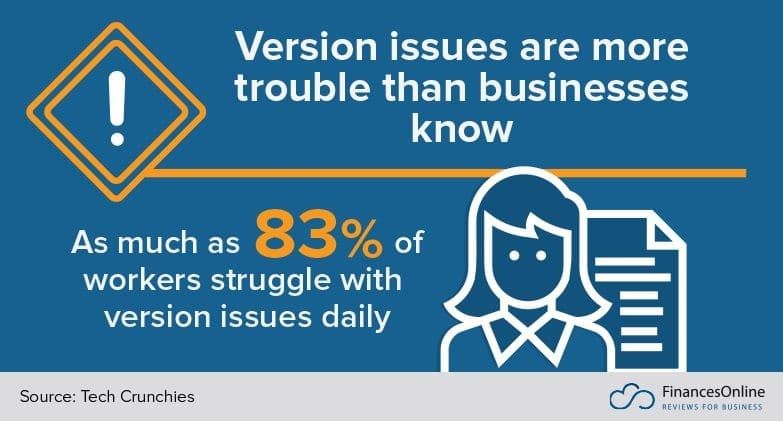 Solve Your Daily Productivity Challenges with a Document Management Workflow and FileCenter
FileCenter aims to make your life easier when it comes to collecting, storing, sharing, and securing your essential business documents. Pound for pound, FileCenter outperforms competitors with a feature-rich, easy-to-use, and scalable document management system. To get the most out of your resources and limit the amount of time they have to look for what they're searching for, consider FileCenter as your core document management workflow solution.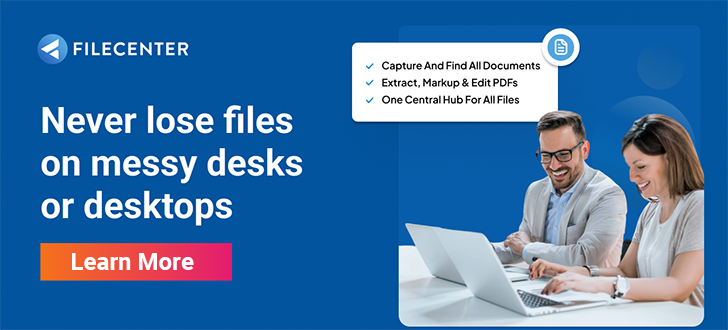 If you want to optimize your workforce with a document management workflow that supports all your business processes, take advantage of our free trial today.