FileCenter Premier Partner
OREM, Utah, January 9, 2020 – FileCenter, Inc., a global leader in the document management industry, announced a new Premier Partner with Black Box Data Imaging Solutions.
Achieving FileCenter's Premier Partner Status differentiates Black Box Data Imaging Solutions as a FileCenter Partner that demonstrates expertise and notable success in helping customers design, build and manage their documents effectively within the FileCenter Suite of Software Solutions.
"Ever since organizations began digitizing their documents, FileCenter has been expanding our ability to support those efforts by training our partners to assist these organizations," said Kevin Anderson, Executive Vice President of FileCenter. "We are excited to be working with Black Box Data Imaging Solutions to better serve these organizations in the United Kingdom and within Europe."

As a FileCenter Premier Partner, Black Box Data Imaging Solutions can extend to its customer more dedicated resources from FileCenter, allowing the company to further drive innovation to capturing and managing electronic records.
"Achieving the FileCenter Premier Partner status validates our breadth of expertise and offers new tools and resources to help our customers take advantage of the full spectrum of FileCenter services," said Paul Syers, President and CEO at Black Box Data Imaging Solutions.
ABOUT BLACK BOX DATA IMAGING SOLUTIONS
For over 25 years, Black Box Data Imaging Solutions has provided products and services to large multi-national companies, small businesses and private individuals. From scanning, document management software, document automation, hardware, archiving and digital searching capabilities, Black Box Data Imaging Solutions tailors its services to helping companies manage their document records. For more information, visit https://www.bbdis.co.uk/.
ABOUT FILECENTER
FileCenter is a developer of breakthrough software solutions that make it easy for people to organize, file and safeguard their electronic and paper files. FileCenter's suite of software solutions include: FileCenter DMS, FileCenter Receipts, FileCenter Automate and FileCenter Portal. For more information, visit https://www.filecenter.com/
Contact: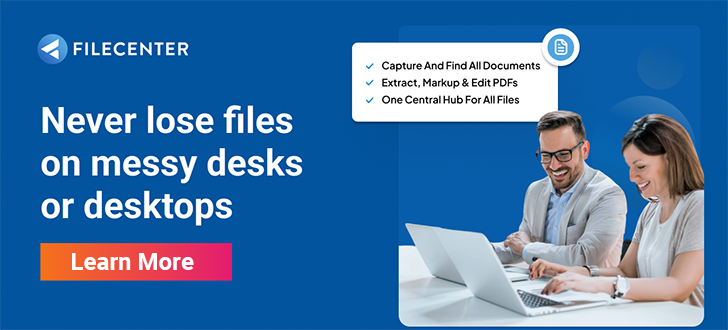 Kevin Anderson
801.722.7095
media@filecenter.com