5 E-Signature Apps and Software to Simplify Things in 2022
In 2022, 91% of surveyed organizations report shifting to a digital-first strategy in day-to-day business operations. Wherever possible, businesses are eliminating manual, hand-to-hand processes and spreading out into omnichannel digital communication and interaction. This transition radically affects the use of paper documents and escalates the importance of adopting e-signature apps and e-signature software to replace the exchange of hand-signed documents.
Trends in the global market for electronic and digital signature technologies reflect these ongoing changes. Electronic and digital signature applications have a global market value of $4.05 billion in 2022, and analysts predict this value will grow to $35.03 billion by 2029, demonstrating a sustained compound annual growth rate (CAGR) of 36.1% for the forecast period.
Accelerated digital transformation across industries such as retail and e-commerce, the public sector, healthcare, and IT/telecoms has driven the rising demand for e-signature technology. Additionally, the technology exhibits a generational preference, with Gen Z and Millennials around the globe preferring increasingly mobile e–signatures for formalizing agreements such as loans, investments, mortgages, and opening accounts.

Until recently, Docusign dominated the e-signature market, holding 81% of total market share. In Q2 of 2022, that consolidation appears to be fracturing. With new players gaining market share and offering consumers more options, businesses should take a fresh look at available apps and services. In this guide, you'll learn about the current best e-signature apps and software for your office.
Key Takeaways:
E-Signatures have become indispensable in day-to-day business operations in an increasingly digital work environment.
The formerly consolidated e-signature service market has recently begun to fragment with new products and feature options becoming available.
Businesses should shop for e-signature products according to their needs. Service variations include single-purchase or subscription-based products, third-party application integrations, and tiers of security such as encryption and digital certification.
What Is an E-Signature?
An electronic signature refers to a signature in an electronic format that enables signatories to acknowledge the terms of a document, contract, or other binding agreement without using pen and paper E-signatures allow computers, rather than human users, to authenticate the identity of signatories and the integrity of documents.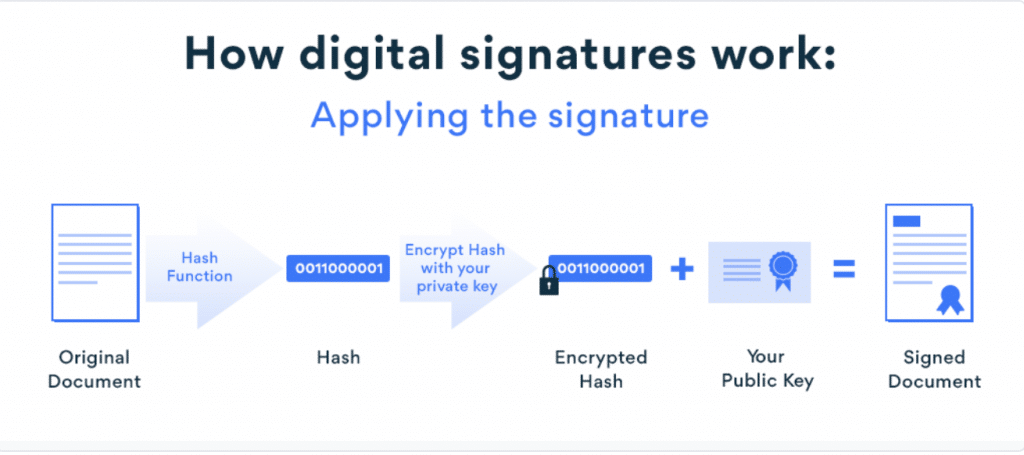 There are two kinds of e-signatures. US law defines an e-signature as any electronic symbol, process, or sound associated with a document or contract that communicates signatory intent. Under this category, a subset of e-signatures, called digital signatures or certificates, employs encryption and audit trail technologies to identify parties, actions, times, and places in signed digital documents.
Top 5 E-Signature Apps and Software for 2022
Depending on your industry and the size of your business, you may need e-signature services for different reasons. Here's a list of the top five e-signature applications that excel for different reasons.
1. DocuSign
DocuSign is a subscription-based e-signature service widely used in financial services, healthcare, education, the public sector, and insurance. DocuSign's popular features include:
Preset Templates
Native Integration with 350+ Applications
Support in 40+ Languages
Service Level Agreement (SLA) of 99.99%
Mobile Compatibility
DocuSign also offers a broad portfolio of security and compliance credentials.
GDPR
FedRamp
HIPAA
ISO 27001
Payment Card Industry Data Security Standard (PCI DSS)
DocuSign's features unlock at three levels of subscription commitment – personal, standard, and business pro – for $10, $25, and $40 per user per month.
2. signNow
signNow is a cross-platform e-signature developer tool. With a broadly applicable API, signNow makes it easy for developers to embed e-signature functions in websites and apps. Assigning e-signature workflows and placing signature requests in application interfaces typically involves writing code. signNow allows users to deploy these functionalities with no-code drag-and-drop tools.
signNow integrates natively with an extensive variety of third-party applications. Users can easily sync it with customer relationship management software (CRM), accounting and payroll software, and marketing automation tools. For use in different industries and legal systems, signNow maintains several relevant security credentials and compliances, such as the EU's General Data Protection Regulation (GDPR), OAuth 2.0, and The Health Insurance Portability and Accountability Act (HIPAA).
3. SignWell
For businesses with minimal e-signature needs, SignWell offers a free, secure service that works on different devices and operating systems. The service is free for single users up to three times a month. To unlock unlimited use, users can subscribe as individuals for $8 a month or as businesses with three total users for $24 a month.
4. HelloSign
Businesses with more stringent security requirements, such as law firms, banks, and government contractors, may find HelloSign their most suitable e-signature application option. HelloSign maintains SOC 2 Type 2 – a service organization control authorized by the American Institute of Certified Public Accountants (AICPA) – giving users the highest level of legal liability protection.
HelloSign is subscription-based and offers three levels of service – Essentials, DropBox Pro, and Standard – for $15, $24.99, and $25/user per month. Shared features for all service levels include custom templates and branding, two-factor authentication, and up to 20 individual signature lines per document.
5. FileCenter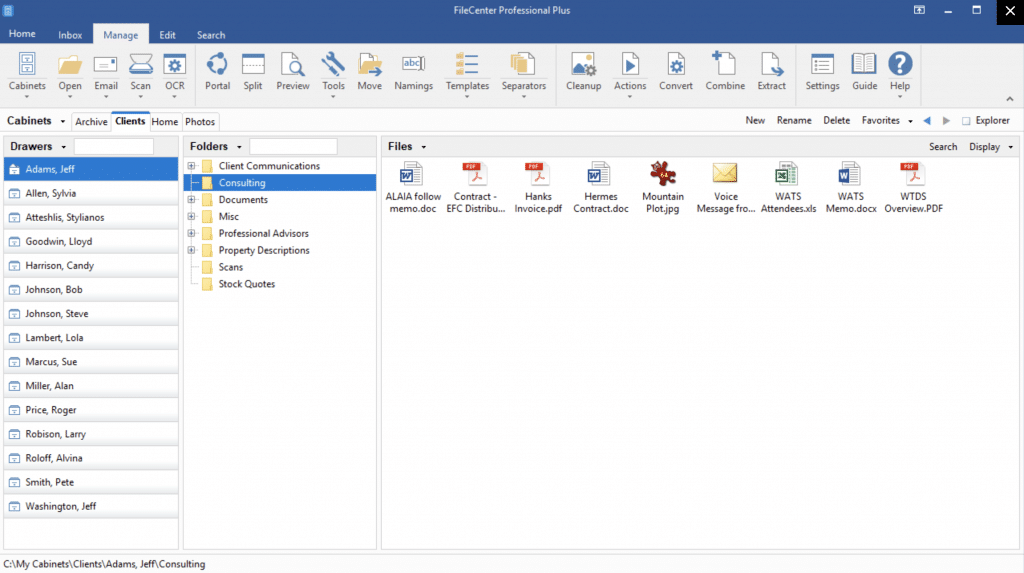 FileCenter provides a scalable single-purchase document management platform with a wide range of functionalities suitable for small businesses and larger enterprises. FileCenter's simple, unified interface contains options to personalize digital signatures with custom images and apply digital certificates for added document security.
FileCenter also offers users a third way to secure documents. With native capabilities for creating and editing PDFs, FileCenter allows users to apply their e-signatures to PDFs and then enables PDF encryption to serve as a seal indicating that no one has made further changes to the document between encryption and decryption. This option is a simple, affordable solution for companies that need to secure documents exchanged with other organizations but don't want to contract with third-party registration authorities for digital certificate verification.
Get on the Shortest Path to Eliminating the Daily Hassles of Paper Processes with FileCenter
FileCenter offers businesses of all sizes and industries a scalable, single-purchase document management solution. With multiple options for configuring e-signature customizations and security tiers, FileCenter can eliminate the wasted time and labor associated with tracking down hand signatures for paper documents.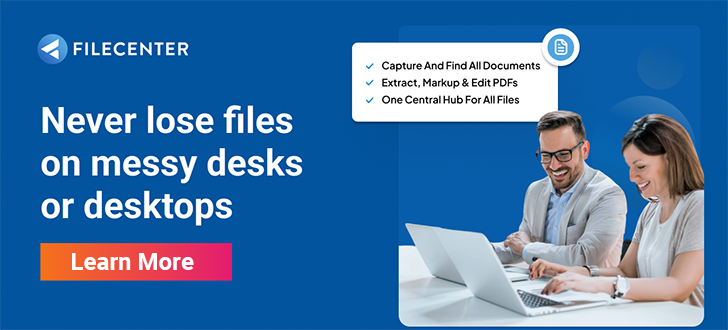 To download a free trial or schedule a live demo, visit FileCenter today.